Karnataka: Brave ten-year-old saves himself from a python
A ten-year-old boy who was bitten by a python has shown exemplary courage without getting shaken by the attack in Mangaluru. The boy who escaped from the predator has been identified as Sankalp G Pai.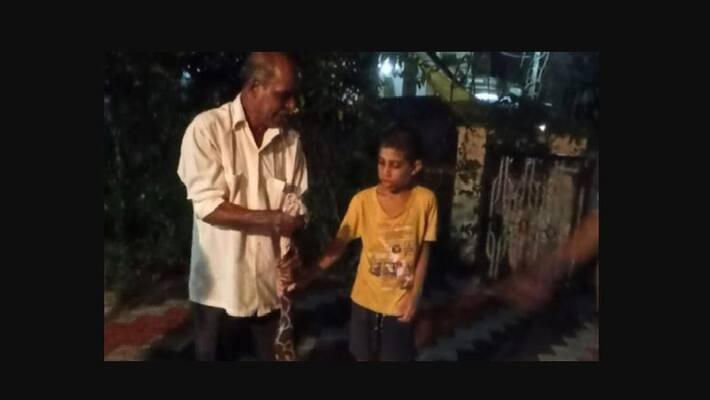 Mangaluru: An incident of a python that bit a child in Mangaluru was reported on October 7.
Sankalp Pai, son of P Gopala Krishna Pai, was going to the temple near his house at Vadirajanagar, in Mangaluru at 7pm when the python, which was in a drainage pipe, bit him on his leg.
A python that was stealthily waiting in the courtyard of the boy's house emerged from the pipeline of the drain water suddenly and attacked Sankalp and bit him in the right leg. As there was darkness around, the python had not been visible to the boy.
The boy immediately kicked its hood with the other leg, at which the python returned to the pipe and hid there.
Also read: Karnataka court asks police to file FIR against Kangana Ranaut for anti-farmer tweet
The locals immediately came to spot on hearing Sankalp's scream. They caught the python and transported it to Pilikula Nisargadhama.
Sankalp suffered small wounds on his leg from the bite and was taken to the hospital for treatment.
The doctors there advised the boy to be shifted to another hospital as they could not ascertain whether the reptile was poisonous or not. Thereafter, a doctor from Chilimbi treated him. He was reported to have fully recovered now.
Last Updated Oct 10, 2020, 10:23 AM IST