Kerala government issues alert in state after Kalamassery explosion
Following an explosion that rocked a convention centre during the meeting of Jehovah's Witnesses in Kalamassery, Kochi on Sunday (Oct 29). The Central government is also monitoring the situation.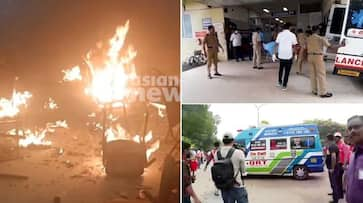 Kochi: An alert has been issued in Kerala in the wake of the explosion in Kalamassery on Sunday (Oct 29). The district police chiefs have been instructed to be vigilant throughout the state. The state Anti-terrorism squad has reached the explosion site. An explosion rocked a convention centre in Kalamassery in the Ernakulam district of Kerala, claiming a person's life, reportedly a woman and injuring over 20 others. The cause of the explosion, which went off at 9:45 am on Sunday (Oct 29) is not yet known. The condition of five of the injured is critical. The injured have been shifted to Kalamassery Medical College. 
The reason for the explosion is yet to be ascertained.
Also read: Explosions at convention of Jehovah's Witnesses in Kerala's Kalamassery; 1 dead, 23 injured
The explosion took place during a meeting of Jehovah's Witnesses. According to eyewitnesses, around 2,000 people had been participating in the religious congregation when the explosion went off. Fire force personnel and senior police officials are present at the explosion site.
Health Minister Veena George directed the Director of the Health Department and Director of the Medical Education Department to provide better treatment in the case of the explosion in Kalamasery. All the hospitals have been alerted. The minister directed all health workers, including doctors, who are on leave to return immediately. Instructions were also given to prepare additional facilities at Kalamasery Medical College, Ernakulam General Hospital and Kottayam Medical College. Additional staffing will also be provided. The minister also directed to provide facilities in other hospitals of the district.
The Central government is also monitoring the situation and has sought information from the authorities. The preliminary report of the state police is awaited. The Centre has directed to check the possibility of a terrorist attack.
Chief Minister Pinarayi Vijayan said that the explosion in Kalamassery was an extremely unfortunate incident. Other details are being verified. Police officials from Ernakulam have reached the spot. The DGP has set off to Ernakulam. The Chief Minister said that other matters are being collected.
Also read: Kalamassery blasts: Traces of IED found, explosives likely planted within tiffin box
Last Updated Oct 29, 2023, 1:15 PM IST