Kalamassery blast: Death toll rises to 3; 25 people under treatment
The death toll in the Kalamassery blast has risen to 3. Around 25 people are currently seeking treatment at various hospitals. The explosion took place inside a convention centre during a prayer meeting of Jehovah's Witnesses near Kalamassery on Sunday.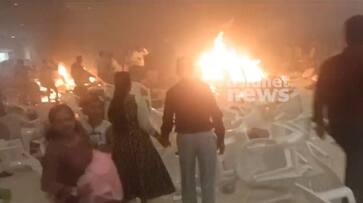 Kochi: The death toll in the Kalamassery blast has risen to 3. A 12-year-old girl who was undergoing treatment at Kalamassery Medical College succumbed to her injuries. The deceased has been identified as Libina, a native of Malayattoor. She suffered 95 percent burns in the blast and was being treated on a ventilator. The necessary treatments for the child were given as per the instructions of the medical board. However, she did not respond to the medicines and died at 12.40 a.m. on Monday, officials said.
Kumari (52) and Leona Paulose (55) have been identified as the other deceased victims of the tragedy. They are from Thodupuzha and Perumbavoor, respectively. Leona Paulose, a 60-year-old from Kuruppampady in Ernakulam, was the first victim of the explosion. She attended the event alone, and her relative identified her body by the ring she was wearing. The body cannot be released until her daughter from abroad arrives tomorrow to confirm the identification. The delay in identifying the body was due to the absence of immediate family.
The explosion occurred inside a convention centre near Kalamassery Nest around 9:40 a.m. on Sunday. A man named Dominic Martin, who lives in Kadavantra, Ernakulam, surrendered to the police and is currently in police custody.
Meanwhile, an alert has been issued in Kerala in the wake of the explosion in Kalamassery on Sunday (October 29). The district police chiefs have been instructed to be vigilant throughout the state.
In the Thrissur district of Kerala, a self-proclaimed member of Jehovah's Witnesses turned himself in to the police, taking responsibility for the series of blasts that took place during a Christian religious gathering in Kalamassery on Sunday. The individual, identified as Dominic Martin, surrendered at the Kodakara police station, asserting that he was the person behind the detonations. He provided evidence to support his claim, currently under investigation by the authorities to ascertain its validity and motivations for the act. According to the latest reports, the police have invoked the Unlawful Activities Prevention Act, 1967 (UAPA) against Dominic Martin.
The explosion took place during a meeting of Jehovah's Witnesses. According to eyewitnesses, around 2,000 people had been participating in the religious congregation when the explosion went off. Fire force personnel and senior police officials were present at the explosion site.
Last Updated Oct 30, 2023, 10:53 AM IST