JNU Delhi campus defaced with 'Bhagwa Jalega' and 'Free Kashmir' graffiti; check details
Yet in another instance of polarisation, the walls of the JNU campus were defaced with 'Bhagwa Jalega' graffiti inscriptions on Sunday (Oct 1) morning.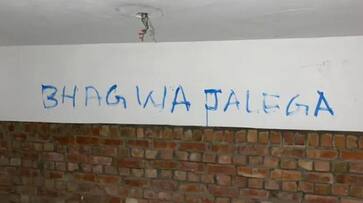 Delhi: The national capital's Jawaharlal Nehru University (JNU), which has a long history of academic fervour and political action, is now again embroiled in controversy as a result of a string of gravely disturbing graffiti inscriptions. The derogatory graffiti was initially noticed in the School of Language on the JNU campus and included messages that are not only distressing but also incredibly polarising. Brazen phrases like "Bhagwa Jalega" (Saffron shall burn), "Free Kashmir," and "Free IoK" (Indian Occupied Kashmir) are inscribed onto the walls in these photographs, which are now widely circulated on social media sites. The incident came to light in the early hours of Sunday.
There are instances of the terms "NRC" (National Register of Citizens) and "CAA" (Citizenship Amendment Act) being tarnished and crossed out visibly among the inflammatory writing. The identities of those who committed these objectionable acts are still unknown at this point, and neither a person nor a group has come forward to take responsibility. Additionally, authorities haven't yet made any statements about the development.
This is not the first instance where the JNU campus has been defaced by such contentious graffiti. In 2022, anti-Brahmin graffiti appeared on the walls of the college with phrases like "Brahmins leave the campus" and "Go back to Sakhas." 
The words were seen on the walls of the School of International Studies-II structure. Some of the slogans on the wall were as follows, "Brahmins Leave The Campus," "There Will Be Blood," "Brahmin Bharat Chhodo," and "Brahmino-Baniyas, we're coming for you!" We will avenge." 
Last Updated Oct 1, 2023, 4:36 PM IST