Jet Airways passenger held for mid-air hijack scare; Flight diverted to Ahmedabad
The flight had departed from Mumbai at 2:55 am and the hoax letter was discovered at around 3:48 am.
The letter had also directed the pilots to take the flight to POK and not stop at Delhi.
One of the passengers confessed to the crime after being interrogated.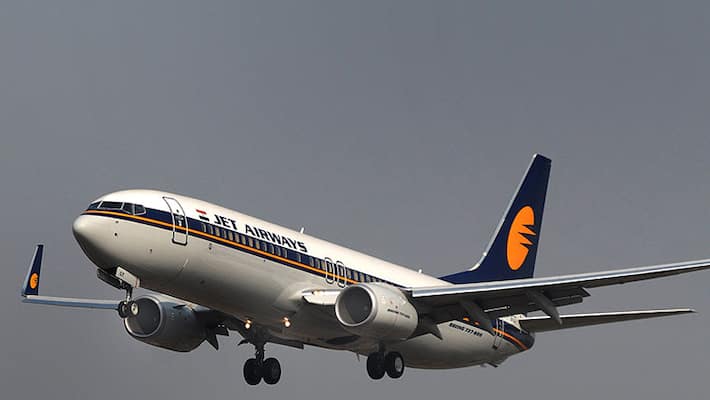 In yet another mid-air hoax terror warning, a Jet Airways flight flying to Delhi from Mumbai had to divert its flight 9W 399 to Ahmedabad for a security scheck. To the inconvenience of the 115 passengers, a man onboard allegedly placed a typewritten note in one of the washrooms claiming that the flight was hijacked and that the luggage section had explosives.
To the horror of the crew members, it had also directed the pilots to take the flight to POK and not stop at Delhi. The incident happened mid-air at around 3:30 am on Mmonday. The flight was delayed by over 7 hours due to extensive checking of the baggage and the identity of the passengers carried out by the Central Industrial Security Force (CISF) personnel at Ahmedabad.
According to a report by The Hindu, one of the passengers was detained and is being interrogated by Ahmedabad police. A crew member identified him to be the only man who used the washroom before the note was discovered. Salla Birju, the accused, meanwhile has confessed to the crime. Civil Aviation Minister Ashok Gajapati Raju  reportedly Tweeted that the man be put on a no-fly list by airport authorities.
A Jet Airways spokesperson said, "In keeping with Standard Operating Procedure, the pilot landed the flight at Ahmedabad. The guests and crew were safely deplaned and the aircraft was subjected to a full security check." The official further added that the flight was declared safe and left for Delhi following the security check. The CISF authorities are treating the matter as a hoax. One of the officials said, "The aircraft had taken off from Mumbai around 2.55 a.m. and was mid-air when a typewritten note about hijackers and explosives onboard was received. The aircraft landed at 3.48 a.m. and was thoroughly checked before being cleared for departure to Delhi at 10.46 a.m."
Written in Urdu and english, the typewritten letter read: 
Flight number 9W 339 is covered by hijackers and aircraft should not land and be flown straight to POK. 12 people on board. If you put landing gear you will hear people dying. Don't take it as a joke. Cargo area contains explosives and will blast if you land in Delhi."
"Allah is Great".
Last Updated Mar 31, 2018, 6:38 PM IST