Jaya swings into action, orders free power, loan waiver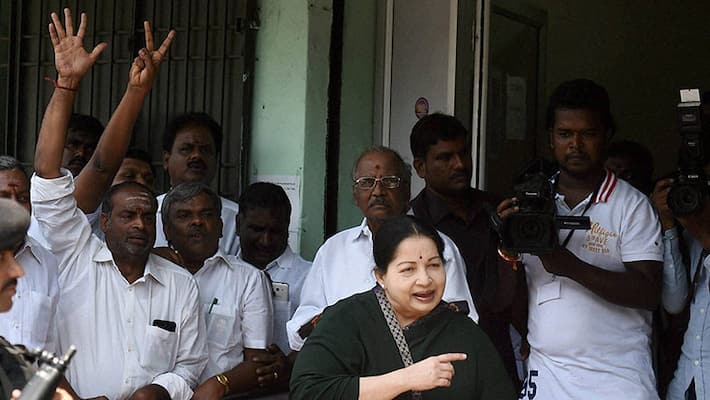 She also ordered an increase in gold allocation for women beneficiaries and reducing the working hours of state-run, Tamil Nadu State Marketing Corporation (TASMAC) liquor outlets besides closure of 500 of its shops.
 
Immediately after being sworn in, Jayalalithaa drove to Fort St George where the Secretariat is located and signed five files to fulfil five of her electoral promises, as mentioned in her party manifesto.
 
She first signed a file ordering waiver of crop loans up to March 31, 2016 payable to co-operative banks. The waiver includes crop loan, medium and long term loans of small and micro farmers payable to co-operative banks and the move would entail a financial burden of Rs 5,780 crore on
her government.
 
Jayalalitha's second order was 100 units of free power for domestic electricity consumers with effect from today in tune with the present tariff computation. It would entail an additional payout of Rs 1,607 crore as grant to the Tamil Nadu Generation and Distribution Corporation (TANGEDCO) by the
state government.
 
Another order was for increasing gold allocation from 4 to 8 grams for women beneficiaries under the Thallikku Thangam Scheme (Gold for 'Mangalsutra').
 
From now on beneficiaries will get eight grams of gold in addition to a monetary assistance of Rs 25,000 to Rs 50,000.
 
The Chief Minister increased free power to handloom weavers to 200 units and for power looms to 750 units. She ordered the closure of 500 state-run TASMAC retail liquor outlets and cut short working hours of bars. With effect from tomorrow, the retail outlets and bars would function from noon to 10 pm which currently remain open between 10 am to 10 pm.
 
All measures are in tune with her electoral promises and she had said she would show her gratitude to the people through her work.  
Last Updated Mar 31, 2018, 6:34 PM IST