Watch: Samajwadi Party MP throws papers on Lok Sabha Speaker
A Samajwadi Party MP throw speech copies at the Lok Sabha Speaker Sumita Mahajan
The papers were thrown as soon as she announced that the House session was postponed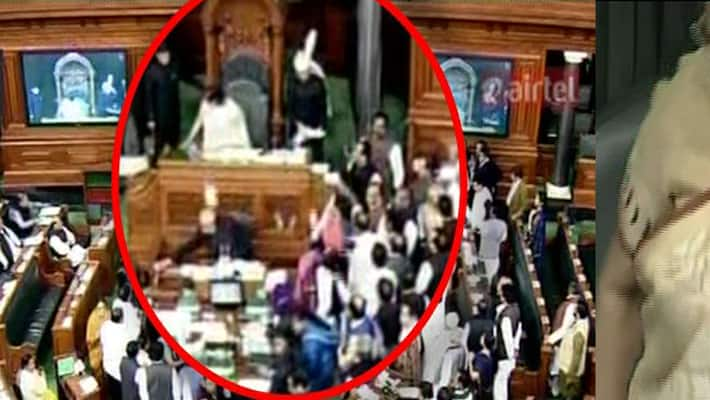 Assembly sessions have not been conducted smoothly for six days now, thanks to demonetization, which has been rocking the Parliament. However, the throwing of letters at the Speaker is perhaps an act of irresponsibility which is not acceptable.
The deed was done by Samajwadi Party MP Akash Yadav, who apparently decided to stoop to a new low after Sumitra Mahajan postponed the session. The act is beyond simply being unruly. The act is also unconstitutional and against every rule in book. Akash is the son of Samajwadi Party leader Ram Yadav, who is a Rajya Sabha MP himself. 
A visibly upset Speaker Sumitra Mahajan adjourned the House till noon. It was not immediately clear whether the paper torn was picked from the table of the Secretary General.
Soon after the Chair made obituary reference to former Uttar Pradesh Chief Minister Ram Naresh Yadav and Carnatic exponent M Balamurlikrishnan who died recently, members from Congress, TMC and SP demanded taking up the adjournment motion on demonetisation issue.
SP MP Akshay Yadav throws papers at speaker #SumitraMahajan in Loksabha https://t.co/3i4hcnIT3q via @YouTube

— Samachar Plus (@samachar_plus) November 24, 2016
Soon members from Congress, Left parties, SP and TMC rushed into the Well raising slogans as the House took up Question Hour. The ruling party benches in the House were today largely empty.
Members from AIADMK and AAP were seen standing at the aisle but did not join the others in the Well.
Soon, Yadav tore the paper and the Speaker adjourned the House immediately thereafter.
Last Updated Mar 31, 2018, 6:57 PM IST