Indian Air Force Chopper comes for man's rescue in Bilaspur
A man was rescued by an IAF chopper near Bilaspur on Monday. The man had been trapped in the Khutaghat Dam for more than 14 hours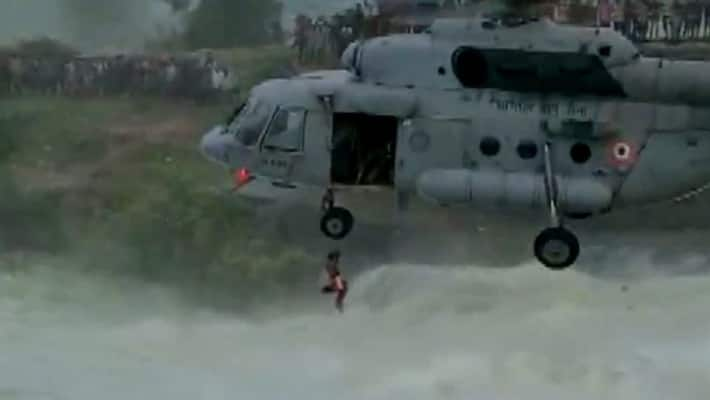 Bilaspur: Indian Air Force (IAF) on Monday rescued a man with help of a Chopper near Bilaspur in Chhattisgarh. The man had jumped in the Khutaghat Dam. Suddenly he got trapped in the dam because of strong waves. Then IAF was called for help.
IG of Bilaspur Range Deepanshu Kabra said that 43-year-old Jeetandra Kashyap who is a resident of Gidhauri had been on a small tree, which in the midst of a flowing river, since Sunday. The people had gathered around the tree. The police were alerted after the sunset. A rescue team from Bilaspur reached the site at night. According to the sources, the team could not spot the man because of the darkness. SP Prashant Agrawal said that the rescue team had reached on Sunday but the flow in the river was heavy. So, the rescue team could not start its work.
The man had been on the tree for more than 14 hours. The police say that Jeetandra jumped in the river on Sunday. He was drunk at the time. The river tide carried him to nearby stones.
Before this Jeetandra kept calling for help. The police along with other people were present at the site right through the night. The Air Force was called for help and sent the exact location. In morning a Chopper arrived and the man was airlifted.
The man has been admitted in Raipur's Ram Krishna hospital. Jeetandra condition has worsened as he was in cold water right through the night. The sources say, that he is now smiling as he as been safely rescued. 
Last Updated Aug 17, 2020, 2:58 PM IST