Examining Pak's arrest of ex-Indian Navy officer: Iran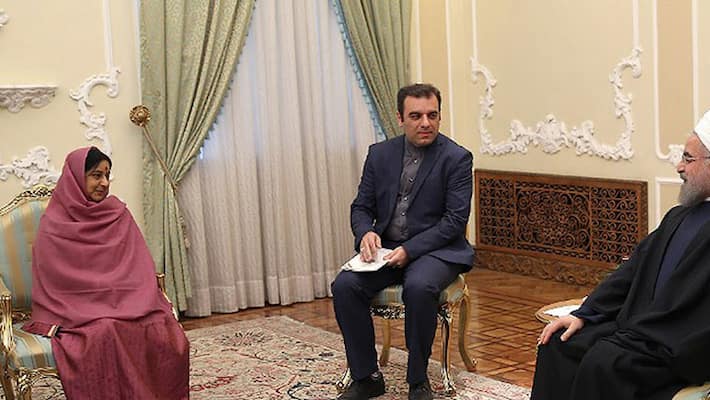 Iranian envoy Gholamreza Ansari, in an interaction with the media, also ruled out any possibility of the Iran-Pakistan-India gas pipeline project taking off, saying "we should forget about it".
When asked about Jadhav's arrest, he said, "First of all we are trying to complete our own information about the case. And I don't think I am in a position now to say any word about that. But definitely we are looking into this issue very accurately."

    
Jadhav was arrested last month by Pakistan, which described him as an officer of the Indian Navy, a claim debunked by the Indian government. India said he had no link
with the government since premature retirement from the Navy.
Official sources had said here that Jadhav owned a small ship and used to carry cargo from Bandar Abbas and Chabahar ports in Iran and other adjoining areas to various locations.
Asked about Prime Minister Narendra Modi's possible visit to Iran, the Iranian envoy did not give any timeline but said talks on it are on. "The sooner the Prime Minister visits Iran the better it will be," he said.
The Iranian Ambassador pitched for deeper bilateral cooperation between India and Iran in a range of areas, saying Indo-Iran ties were was becoming increasingly important in the regional as well as international stage.

    
External Affairs Minister Sushma Swaraj had paid a two-day visit to Iran last week during which both sides had decided to step up engagement in oil some other sectors.

On the IPI project, Ansari said those who have invested in the LNG (liquified petroleum gas) projects in India will not allow the pipeline venture among India, Iran and Pakistan to take off.
"People who have invested in LNG in India, I don't think they will let any pipes to come in. Americans are looking for the Indian market for the future and any sort of pipeline will put and end to these investments. So I don't think pipeline can be a serious project. I am sure Americans will not let this project go ahead," he said.
    

India has been boycotting formal talks on the project since 2007 over security concerns as the pipelines would haveto pass through Pakistan.
Asked about terror from Pakistani soil targeting Iran, he said it was a challenge and the two countries were trying to cooperate to deal with the scourge.
"This is something that happens...We are trying to cooperate and talk to the Pakistanis on how we can stop this sort of difficulties on our border...We are trying to
encourage Pakistanis to reciprocate these efforts to stop this sort of activities," he said. 
Last Updated Mar 31, 2018, 6:50 PM IST