India China standoff: PLA soldiers 'cry' on way to India border, Taiwan media mocks China
A video of Chinese soldiers on their way to the disputed border with India went viral. The young recruits were seen crying and singing a Chinese military song called 'Green Flowers in the Army'.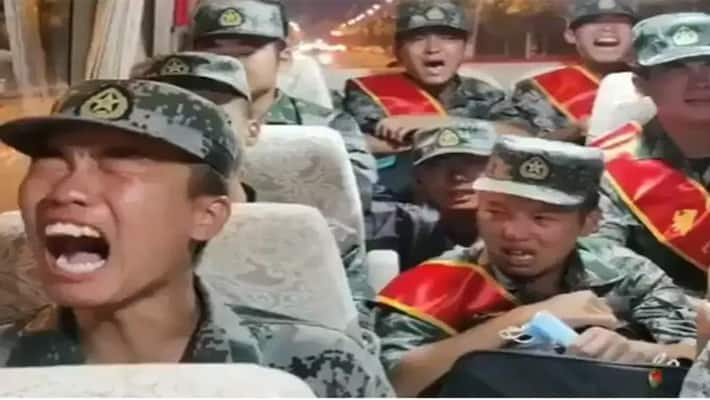 Taipei (Taiwan): An online video published last week, showing the young soldiers of China's People's Liberation Army (PLA) singing and getting emotional, led to a bizarre war of words between mainland Chinese and Taiwanese media.
The People's Liberation Army (PLA) soldiers were being transported by bus whilst singing the patriotic Chinese song 'Green Flowers in the Army'. All the soldiers appear emotional whilst several are openly weeping.
Taiwanese media mocked the soldiers for crying and interpreted it as a sign of fear against deployment at the border with India amid the ongoing border tension, according to the report.
India and China has been on the brink of a major conflict since April after the PLA intruded into Indian territory in violation of the agreement between the two countries along the Line of Actual Control. With the Indian Army and border security forces giving the Chinese side a taste of its own medicine, a panicky Beijing is building up its troop deployment along the international border.
Pakistani comedian Zaid Hamid had on September 20 posted a video on Facebook in which several PLA recruits were seen crying on a bus as they were being transferred to Ladakh.
In order to validate that the video was legitimate, a Chinese Twitter user by the handle '@waynescene' reposted the video on social media platform and wrote, "They were told that they would be going to the front lines after they got on the bus. The cannon fodder are crying!"
Chinese state-backed media house Global Times countered the allegation, claiming that the video was shot when the soldiers had bid farewell to their families. GT said that the circumstances of the video were 'completely contrary' to the 'mood' created by Taiwanese media.
It further said that though the Taiwanese media report "tried to use all kinds of explicit hints to shape the image of the PLA fighters being 'afraid of war', when describing all the key information, the author used vague terms such as 'reported' and 'probable', which seemed very guilty."
 
Last Updated Sep 23, 2020, 10:36 AM IST