Here is why Karnataka Congress is hesitant to rope in BJP rebel, independent MLA Sharath Bachegowda
After Karnataka bypolls, defeated Congress rebel and BJP candidate MTB Nagaraj from Hoskote, and triumphant BJP rebel and independent candidate Sharath Kumar Bachegowda are seen cosying up to the former Speaker and Congress leader Ramesh Kumar. This has sparked rumours about Sharath seeking Congress's hand.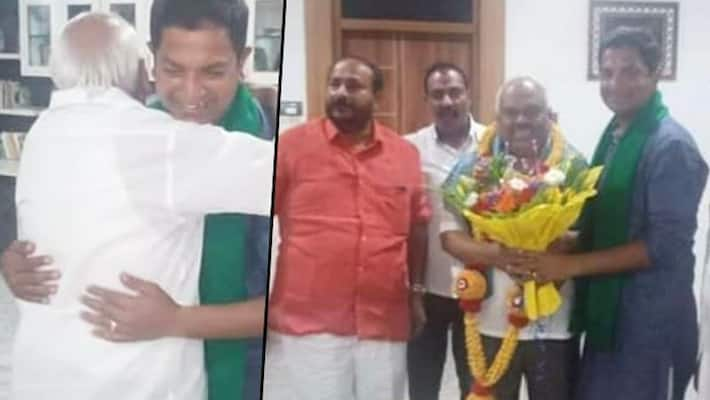 Bengaluru: The snaps along with Congress leader KR Ramesh Kumar after the victory has given much fodder for party leaders from Hoskote and Kolar surroundings to think that Congress may now be all set to use BJP rebel and independent MLA Sharath Kumar Bachegowda to take on Congress rebel and BJP leader MTB Nagaraj.
Sharath, who won the recently-fought Karnataka bypolls with 11,486 more votes defeating Nagaraj, is said to be in good touch with Ramesh Kumar. He greeted Kumar at his residence in Srinivaspura, the pictures of which went viral.
Post this development, political circles in Hoskote and Kolar region were rife with rumours that Sharath may join the Congress. However Congress veteran, Ramesh Kumar dispelled them all claiming that the meeting was "not political".
"I did not advise him to join the Congress as this is no holy water. If he wants to come to Congress, he will seek my advice. Let us see at that time. The major political parties have gone into oblivion, regional parties have limitations. He is like my son and I will not advise him to come and drown in the sea."
 
Last Updated Dec 17, 2019, 5:02 PM IST