Has Karnataka CM Yediyurappa given into newly inducted minister Ramesh Jarkiholi's demands?
Newly inducted minister Ramesh Jarkiholi has reportedly demanded for the post of irrigation department and for which Karnataka chief minister BS Yediyurappa has given his nod.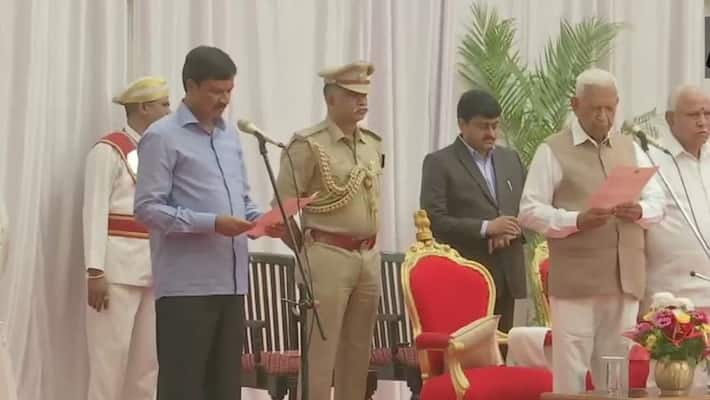 Bengaluru: Within minutes of being inducted into the Karnataka Cabinet, Ramesh Jarkiholi reportedly reiterated his demand in front of chief minister BS Yediyurappa while walking off the stage during the swearing-in ceremony.
Belagavi's powerful politician and Gokak MLA Ramesh Jarkiholi, who played a major role in toppling the Congress-JDS coalition government last year due to his differences with former irrigation minister DK Shivakumar has his eyes set on the same department, office and official house in an attempt to settle the score with DK Shivakumar.
Jarkiholi is eyeing the irrigation department, which was once held by former minister DK Shivakumar.
Also read:  10 new ministers inducted into CM Yediyurappa's Cabinet in Karnataka
During today's swearing-in ceremony, Jarkiholi reportedly discussed with Karnataka chief minister BS Yediyurappa about the post while getting off the stage.
According to sources, Ramesh Jarkiholi not only demanded the irrigation department post, but also the same office and official house, which was occupied by Shivakumar.
Gaining the portfolio will help Jarkiholi emphasise that the wheel of fortune has turned in his favour.
In reply to Ramesh Jarkiholi, chief minister Yediyurappa vaguely answered yes and agreed to his demands.
We'll have to wait and see if Jarkiholi's demand for post of irrigation minister is a plan to settle scores with DK Shivakumar or is it because he hails from the district, which depends on irrigation, as BJP says.
Last Updated Feb 6, 2020, 4:30 PM IST