Harish Rawat set to return as CM of Uttarakhand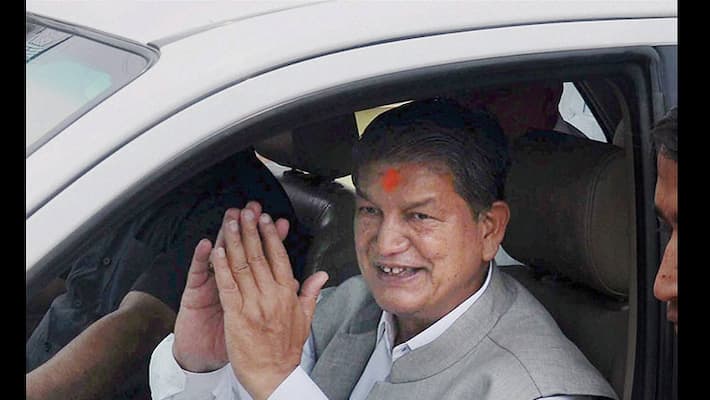 Congress leader Harish Rawat is all set to be reinstated as Chief Minister of Uttarakhand, over six weeks after he was ousted by the Centre, with the Supreme Court today putting its stamp of approval on the floor test in the Assembly yesterday.
"Rawat gets 33 votes out of 61 in the floor test. No irregularities were found in the voting. 9 MLAs could not vote due to their disqualification," an apex court bench said and directed revocation of the President's rule forthwith so that 68-year-old Rawat can assume office as Chief Minister.
Celebrations broke out in Dehradun the moment the news trickled in from the court that Rawat has won the trial of strength in the Assembly yesterday which was carried out on the instructions of the Supreme Court.
The developments have come as a major loss of face for the Modi Government at the Centre which had dismissed the Congress government and imposed President's rule after nine Congress MLAs sided with the BJP on the Appropriation Bill.
The rebel MLAs were subsequently disqualified by the Speaker under the anti-defection law, a decision that was upheld by the High Court and not interfered with by the Supreme Court.
The bench comprising Justices Dipak Misra and Shiva Kirti Singh made the pronouncement today after perusing the records filed by Principal Secretary (Legislative and Parliamentary Affairs) as directed by it.
At the outset, Attorney General Mukul Rohatgi conceded that there is no doubt that Harish Rawat has proved his majority.
"It's a fair decision," senior advocate Kapil Sibal, appearing for Harish Rawat, told the court.
The bench said Harish Rawat will assume office as CM after President's rule is revoked. "We allow the Centre to revoke forthwith the order of proclamation of President's rule in the state," it said.
The bench asked the Centre to file before it day after tomorrow its order revoking the President's rule in Uttarakhand.
It, however, held that the justifiability of the proclamation of President's rule made on March 28, which has been assailed by the high court, will remain alive as it is under challenge before the apex court.
It also noted that the nine disqualified MLAs have challenged the HC order and the matter is of debate. "We do not say anything on that," the bench said.
An ecstatic Congress Vice President Rahul Gandhi said that democracy has won and hoped that the Prime Minister will "learn the lesson".
"Hope the PM learns the lesson that people of India and institutions built by our founding fathers will not tolerate the murder of democracy," Rahul said on Twitter.
Hope Modiji learns his lesson-ppl of this country &the institutions built by our founding fathers will not tolerate the murder of democracy!

— Office of RG (@OfficeOfRG) May 11, 2016
"They (BJP) did their worst. We did our best. Democracy won in Uttarakhand", Gandhi said.
Last Updated Mar 31, 2018, 6:38 PM IST