Gujarat: 5-member gang arrested for trying to selling red sand boa for Rs 42 lakh
In Gujarat, five persons were arrested for trying to sell a red sand boa. They tried to sell it for Rs 42 lakh in Vadodara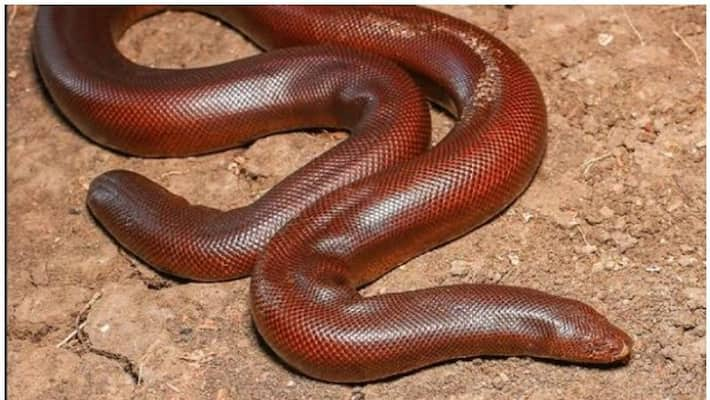 Vadodara: A five-member gang was arrested in Vadodara for trying to sell a red sand boa. Based on a tipoff that a gang is trying to sell a rare snake, a range forest officer (RFO) sent a decoy as a customer and the deal was sealed for Rs 42 lakh.
As per a report, the gang agreed to sell the reptile at National Highway 8 near a vehicle showroom.
The accused usually choose Highway as it provides opportunity to escape in case there is a danger of getting caught.
"We learnt that the gang was trying to sell a red sand boa for Rs 42 lakh. We then set a trap and sent in a decoy customer to buy the boa on Thursday. The deal was decided and the gang was to hand over the boa near a vehicle showroom on NH-8," RFO Nidhi Dave was quoted as saying.
Initially three members of the gang turned up and had the snake in possession as they showed it to the decoy. Soon, forest officers arrested them. On Friday (July 31), two more were arrested.
As per reports, Chintan Parmara, Dinesh Mochi,  Harun Khatri, Zakir Khatri, and Govind Rabari have been arrested under the wildlife protection act of 1972.
It is said people sell red sand boa promising its medicinal values and its purpose in witchcraft or assuming it as a 'lucky factor' and helps in financial gains while some people hide it in a drum in their houses.
Also watch: Actor Shekhar Suman believes Sushant Singh Rajput fell victim to an underworld-like mob in Bollywood.
Last Updated Aug 1, 2020, 11:21 AM IST