Game changer: How India-Middle East-Europe connectivity corridor rivals China's Belt and Road Initiative
The groundbreaking India-Middle East-Europe Economic Corridor is a collaborative infrastructure initiative aiming to enhance trade, reduce shipping costs, and rival China's Belt and Road Initiative. Let's explore its significance, potential benefits, and its role in promoting sustainable development.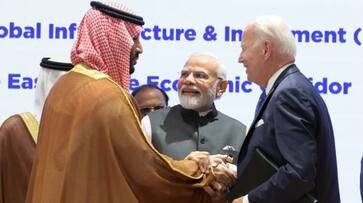 India, Saudi Arabia, the United Arab Emirates, the United States, and Europe have joined forces to create a groundbreaking infrastructure agreement -- India-Middle East-Europe Economic Corridor. Their collaborative effort focuses on establishing an extensive rail and shipping corridor designed to boost trade among these nations, encompassing the exchange of energy resources. This initiative notably represents one of the most ambitious responses to China's far-reaching Belt and Road Initiative, which aims to promote global connectivity centred around the Chinese economy.
The India-Middle East-Europe Economic Corridor venture, co-led by India and the United States, signifies a momentous and pioneering undertaking in connectivity and infrastructure cooperation. It unites India, the UAE, Saudi Arabia, the European Union, as well as prominent European nations including France, Italy, and Germany, along with the United States.
How Important Is This Project
Prime Minister Narendra Modi conveyed, "This corridor will serve as a model for sustainable development worldwide."
President Joe Biden of the United States announced a substantial investment in a new railway line extending from Angola to the Indian Ocean, underscoring its positive implications for job creation and food security. He characterized it as a transformative investment and called for global solidarity at this pivotal juncture in history.
Saudi Arabia's Prime Minister, Mohammed bin Salman, expressed eager anticipation for the initiative's implementation, emphasizing its potential to establish the most direct linkage between India, the Middle East, and Europe, potentially reducing travel durations by 40 per cent.
Ursula von der Leyen, President of the European Union, echoed this sentiment, highlighting that the corridor would serve as the fastest route connecting India, the Middle East, and Europe, thus substantially expediting travel.
Gamechanger to Rival Belt and Road Initiative
Enhanced Trade Efficiency: This infrastructure deal promises to significantly reduce shipping time and costs, resulting in more economical and expedited trade.
Alternative to Belt and Road: It presents a viable alternative to China's Belt and Road project, which has left several developing nations burdened with substantial debt, including countries like Pakistan, Kenya, Zambia, Laos, and Mongolia.
Challenges with Chinese Lending: China's reputation as a demanding lender, coupled with the comparatively high costs of its emergency financial relief, has led to concerns about "debt trap diplomacy" associated with its Belt and Road Initiative.
Boosted Energy, Trade, and Communication: The countries involved in this new corridor can anticipate an increased flow of energy resources, trade activities, and digital communication, promoting economic growth and development.
Addressing Infrastructure Gaps: The corridor is poised to address the infrastructure deficit that impedes progress in lower- and middle-income countries, ultimately fostering economic advancement.
Regional Stability: By improving connectivity and cooperation, this project has the potential to reduce tensions and instability in the Middle East, thereby enhancing overall regional security.
Indian Global Engagement: India's approach to global welfare initiatives, particularly in Africa, is distinct in its intent, methodologies, and outcomes compared to China's involvement. No Specific Announcement Timeline: While the details of a specific announcement timeline remain undisclosed, the initiative holds significant promise for future development.
What's The Belt and Road Initiative (BRI)? 
Introduced by China in 2013, the BRI is a commitment to deepen China's integration with the global economy, extending beyond trade and investment flows. It aims to alleviate trade bottlenecks across Central, Western, and Southern Asia, as well as extend connectivity networks to the Middle East, East Asia, North Africa, and beyond.
Last Updated Sep 9, 2023, 7:04 PM IST