G20 Pre-Summit briefing: Under Modi's leadership, G20 taken to grassroot level in every state; key highlights
This assembly of global journalists reflects the international significance of the G20 Summit, where leaders from major economies will convene to discuss critical geopolitical and economic issues.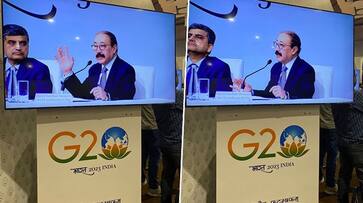 As anticipation builds for the G20 Summit, media representatives from around the world gathered at the International Media Centre within Bharat Mandapam on Friday. During the highly anticipated event, officials conducted a media briefing to provide insights into the summit's proceedings and address key points of discussion.
This assembly of global journalists reflects the international significance of the G20 Summit, where leaders from major economies will convene to discuss critical geopolitical and economic issues. The media's presence underscores the importance of transparent and comprehensive coverage during this prominent international gathering.
G20 Summit 2023: PM Modi changes cover photo of X to Nataraja statue at Bharat Mandapam
Addressing the media, G20 Sherpa Amitabh Kant said, "We wanted the world to take the lead on Green Development in the context of climate action and climate finance. There were several components of this which we wanted to drive and therefore, green development, climate action, climate finance were our third priority."
"Because both SDG and climate action require finance, particularly for developing and emerging markets in the global south. It was critical that we focus on multilateral institutions of the 21st century," he added.
G20 Summit 2023: Complete list of leaders attending meet and those opting out
Here are key highlights from the pre-summit media briefing by Amitabh Kant:
India's presidency started with a focus on addressing the global recession, emphasizing sustainable and inclusive growth.
Prioritization of multilateral institutions and the need for their redesign and reform.
Emphasis on technological development and digital infrastructure.
Recognition of challenges, including the climate crisis and the cost of living debt crisis.
Acknowledgment of the importance of financing green and climate actions, particularly for the Global South.
The critical need to reform multilateral development banks to support these initiatives.
During the briefing, DEA Ajay Seth mentioned that:
India's G20 presidency aims for actionable, inclusive growth and global empowerment.
A priority is to support strong, sustainable, and balanced growth in the face of global challenges.
The presidency focuses on enhancing the global discourse and regulating new technologies like crypto and blockchain.
Strengthening multilateral development banks and promoting strong, sustainable growth is a key agenda.
Technology is harnessed for efficiency and productivity gains.
Nearly 40 events have been organized to address issues that positively impact people's lives.
G20 Summit 2023: From Digital India Zone to Crafts Bazaar - WATCH unique experiences for delegates
G20 Chief Coordinator Harsh Vardhan Shringla highlights India's presidency achievements:
Harsh Vardhan Shringla, G20 Chief Coordinator, discussed India's G20 presidency, which began on December 1, 2022, and will end on November 30, 2023.
India has organized more than 220 G20 meetings across 60 cities during this period, adopting a pan-Indian G20 approach that included holding meetings in every state and union territory, reflecting cooperative federalism.
India's G20 presidency has welcomed over 100,000 visitors from 125 different nationalities, providing them with insights into a rapidly evolving India and significantly contributing to the country's economic growth.
The presidency has placed a strong emphasis on technology, especially digital public infrastructure. Exhibitions at the Media Center, such as the Reserve Bank of India innovation hub, showcased fintech innovations like central bank digital currencies, making digital transactions accessible to international visitors, even those without Indian bank accounts.
Last Updated Sep 8, 2023, 3:31 PM IST