From Thiruvalluvar to Kabir Das: Nirmala Sitharaman draws inspiration to explain various schemes in Union Budget 2020
During her maiden budget speech in July last year, Sitharaman, a native of Tamil Nadu, quoted from writings of Thiruvalluvar and Kabir Das.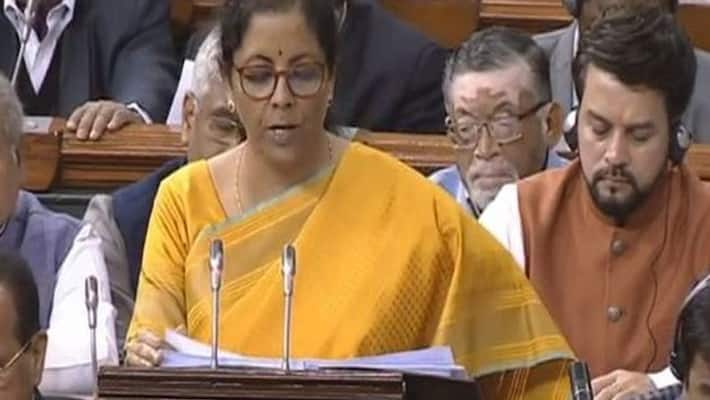 New Delhi: Finance minister Nirmala Sitharaman presented the Union Budget 2020-21 for 2 hours 40 minutes, a record in the history of the nation.
The key takeaways included pro-farmer budget, education, infrastructure boost and tax rates. 
In her second Budget speech on Saturday, the Finance minister rolled out couplets from rendition of famous poets in reference to the difference schemes announced by the government.
In the first instance, Nirmala recited a Kashmiri poem in which she referred to Shalimar Bagh and Dal Lake in Kashmir.
Emphasising that India belongs to one and all, her gesture comes at a time when the Union territory is returning to normalcy after the abrogation of article 370.
The Hindi translation of the poem read: "Humara watan khilte hue Shalimar bagh jaise, humara watan Dal lake mein khilte hue kamal jaisa, nau jawanon ke garam khoon jaisa, mera watan tera watan, humara watan, duniya ka sabse pyara watan."
Nirmala borrowed from Tamil poet Thiruvalluvar's Thirukkural to explain what defines a good country.
Highlighting Prime Minister Narendra Modi's success across all sectors, Sitharaman said, "If Thiruvalluvar identified the five jewels of a good country, those five jewels are the ones which PM Modi is now addressing through his programme."
The poem she quoted was No. 738 of Thirukkural — "Piniyinmai Selvam Vilaivinpam Emam Aniyenpa Naattiv Vaindhu" — which means a country's five jewels are unfailing health, fertility, joy, security and wealth.
In the next, she spoke about a folk couplet in reference to farmers' schemes. The finance minister quoted a woman saint-poet Avvaiyar from Tamil Nadu and roughly translated it in English, which said, "Tend to the land before you take away from it."
Last Updated Feb 1, 2020, 5:13 PM IST