From the India Gate: Royalty Vs Loyalty, Translation Woes & more
There is a lot that happens behind the scenes in the corridors of power. Opinions, conspiracies, power games and internal wrangling galore in the political space. Asianet News Network's massive ground presence taps into the pulse of politics and bureaucracy across the country.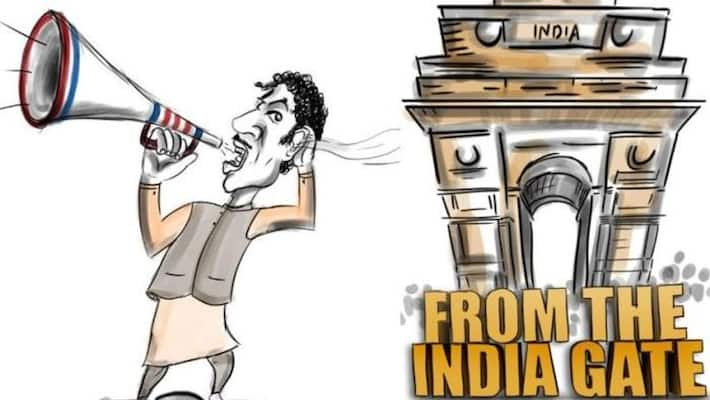 WORTH A VOTE
A Rajya Sabha MP, who was once an assistant professor of history, is the new blue-eyed boy of the Rashtriya Swayamsevak Sangh (RSS) in Madhya Pradesh. This young face hailing from a tribal community is already on a fast-track political career. Armed with exemplary oratory and leadership skills, he is believed to be in the good books of Prime Minister Narendra Modi.  There is huge speculation that he may be considered for a central cabinet position ahead of the Madhya Pradesh elections, expected this year. This leader could do well for the BJP in tribal-dominated western Madhya Pradesh, considering his roots. Tribal voters account for over 21 per cent of the state's population.
Also Read: From the India Gate: Cabinet berths, risky political manoeuvres and more
---
LOST IN TRANSLATION
Difficulty in finding party colleagues capable of translating North Indian netas' speeches into Kannada is becoming a headache for both national parties. While BJP is dependent on Prime Minister Narendra Modi and Home Minister Amit Shah to win voters' confidence, Congress is relying on the Gandhi siblings. But translators deployed by both parties have miserably failed to convey the soul of what their respective leaders passionately say in Hindi or English. 
The most recent incident happened during Congress's Na Nayaki (women's convention), where Lakshmi Hebbalkar utterly failed to translate Priyanka Gandhi's words filled with spirit and aspiration. She often deviated from the original speech. Similarly, during the Bharat Jodo Yatra,  Dharam Singh's son Ajay Singh and Nagaraj Yadav 'began' their 'own speeches' at Molakalmur and Davangere, leaving the crowd perplexed. At one point, Rahul Gandhi had to restrict his translator, who deviated from the original speech.
BJP's embarrassing moment was during Amit Shah's visit to Mandya.  He asked the audience whether they all received Covid vaccination. But what the translator asked the gathering was whether they all benefited from central government projects. But he was soon tamed by the home minister.
Also Read: From the India Gate: Two Commandments, Surname Circus and more
---
EVE POWER
Kerala has faced the cup-and-lip situation when it comes to showcasing its tableau at the Republic Day Parade. Even last year, the proposal was rejected, citing a lack of a proportionate social message. But this year, Kerala seems to have played the trump card by suggesting a concept which is close to the heart of Prime Minister Narendra Modi.
The state will present many facets of Nari Shakti as its tableau for the R-Day. Twenty-four women representing various fields will be part of the tableau that will float on Kartavya Path. Apart from Kalaripayattu and drums, the tableau will have artists of the Gotra Kalamandalam, functioning at Attapadi in Palakkad district, rendering tribal songs and dance forms. The Kalamandalam is headed by Nanchamma, who won the national film award for the best female voice.
Other artists will reflect the great strides Kerala has made in empowering its women. Definitely, it will strike a chord with PM's pet projects, Beti Bachao Beti Padhao, Ujjwala Yojana and Nari Shakti.
Also Read: From the India Gate: Fight of the 'Bahus', Rajasthan tailspin and more
---
MID-COURSE CORRECTION
There are strong rumours doing the rounds that Madhya Pradesh is expected to see a cabinet reshuffle just before the state budget session. While 'Mama' ji may have done enough to secure his position as chief minister, the BJP could drop around six-seven ministers and introduce new faces in the reshuffle. The idea behind introducing fresh faces is believed to be aimed at making chief minister Shivraj Singh Chouhan enter the election season with a new-look cabinet and reduce the anti-incumbency factor.
---
ROYALTY vs LOYALTY
Royals are so used to the red carpet. More often than not, they end up rubbing the party cadres the wrong way. Ever since a member of the royalty joined BJP and assumed a position of significance in the corridors of power, he and his 'cadre' have been accused of the same. Last year too, the local BJP cadre had shot off a letter to the party headquarters against the 'high-flying' leader and supporters being disrespectful to them. Even though the matter was hushed up then, with the election season arriving in Madhya Pradesh, discontent is set to brew once again. The BJP is expected to walk a tightrope or risk landing in a royal mess.
Also Read: From the India Gate: Hunt for a beautiful face, Chote Netaji's jail visits and more
---
'BAIL'ING OUT
Hurling abuses, especially on social media, has become a habit of all political parties. None even hesitates to drag the kin of leaders. And this is a gender-neutral phenomenon, as the 'Chotte Netaji' in UP found out. He was abused by a woman leader recently in an episode of the cyber war of words. Though an FIR was lodged, Netaji soon realized that the act was a double-edged weapon. He soon advised police not to arrest the woman leader.
But people know it was because of political compulsion and not Netaji's generosity. Wisdom dawned on him that pressing for further legal action would have caused an erosion of a particular vote bank to which the woman leader belonged. Further, he was told that the woman was only retaliating to a row initiated by his party's social media cell. Timely bailing out is also a political act.
Also Read: From the India Gate: Of 'Chanakya neeti' and Congress Jodo reality
---
DOUBLE WHAMMY
This IPS officer marched into the social media limelight after getting embroiled in two incidents within a space of hours. He felt an egg on his face when Akhilesh Yadav, who had reached police headquarters after his party's social media head was arrested, refused tea offered by the IPS officer. This open snub was in the presence of all.
Within a few hours, yet another video surfaced where the officer is seen interfering with the work of a media person. The journo is seen giving a befitting reply to the officer when he tries to throw a spanner in his work. The media's ire subsided only after the government promised action against the sahib. But a stern action is being delayed keeping in view certain big-ticket events expected to take place in UP.
Also Read: From the India Gate: From Chacha's comeback to Baba's clout
Last Updated Jan 23, 2023, 8:41 AM IST