Fact-check: Was Pakistan flag larger than Indian flag in Kochi Lulu Mall? The claim is FAKE!
The Lulu Group has refuted all the controversies regarding the national flags hoisted in the Lulu Mall as part of the ongoing ICC World Cup at Kochi. A photograph allegedly portrayed Pakistan's flag as larger than India's flag. What's the actual fact?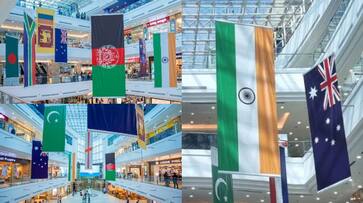 Kochi: As part of the ICC Cricket World Cup, the flags of the respective countries were hoisted at Lulu Mall in Kerala's Kochi. However, it soon got into controversy after a photograph of the same went viral on social media. The photograph allegedly portrayed Pakistan's flag as larger than India's flag. It was also alleged that Pakistan's flag was placed above the flags of India and other countries. 
The Lulu Group came forward and said that the controversy surrounding the national flags of various countries is fake.  In a press release, Lulu informed that some of the false things are being spread about this without understanding the real facts.
Fact:
In the middle of the mall, all flags were hung from the roof at the same height. When taking pictures of the flags from above or from the side, the flags on that side look bigger. But when taking pictures from below, it looks like all the flags are the same size.
What did Lulu Group say?
The Lulu Group in the statement added, " However, there is some incorrect information spreading on social media that the Indian flag is smaller and the Pakistani flag is larger. The enormous hype for the Pakistani flag is entirely incorrect, even though it is normal for each nation's flag to appear larger when viewed from the photograph's side. We have the right to take legal action against the false information."
Lulu also requested people to stay away from such misleading and false propaganda.
Last Updated Oct 11, 2023, 1:03 PM IST