Ex- judge S Sudeep surrenders before court over abusive FB post against Sindhu Sooryakumar
Sudeep unleashed the attack on Asianet News Executive Editor Sindhu Sooryakumar stating that what is said in the 'Cover Story' is wrong. Under the garb of presenting a hypothetical situation, Sudeep went on to write a long note insulting Sindhu Sooryakumar.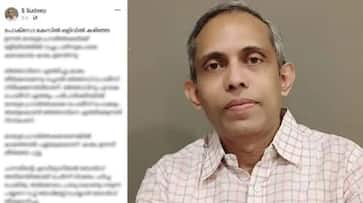 Thiruvananthapuram: Former sub-judge S Sudeep who was booked for his obscene post on Facebook against Asianet News Executive Editor Sindhu Sooryakumar surrendered before the Judicial First Class Magistrate court on Thursday (Aug 03). The case was registered based on the complaint lodged by Asianet News Managing Editor Manoj K Das. He surrendered while a notice was issued asking him to appear at the police station tomorrow.
Meanwhile, the court granted bail to S Sudeep. However, the court has asked him to appear before the investigating officer at Cantonment police station between 10 am and 5 am on Saturday (Aug 5).
Also read: Ex-judge who abused Asianet News Executive Editor Sindhu Sooryakumar on Facebook booked
On July 21, Thiruvananthapuram Cantonment Police registered a case under Sections 354A (1) of IPC and 67 of the IT Act. 
Sudeep, who had resigned as a sub-judge in June 2021 after an inquiry by the High Court reprimanded him for his posts on the Sabarimala issue, took to his Facebook page after Sindhu's weekly programme 'Cover Story' reflected on wrongdoings and unpalatable acts of the incumbent government.
'Cover Story' has always been known for its sharp criticism and perspective on all governments -- state and central.  His post ridicules the Asianet News leadership and belittles the channel in public eyes.
Sudeep, while serving as a sub-judge, took to social media to vent his protest over the Sabarimala issue and against the Centre. Several petitions against him reached the High Court. The inquiry panel directed disciplinary action. Following this, Sudeep resigned from judicial service. He has been active in cyberspace with his vehement attack on anyone and anything against the Left ever since.
Last Updated Aug 3, 2023, 4:58 PM IST