'Epitome of vulgarism...' MP Ramesh Bidhuri faces heat over hate rant in Parliament against BSP's Danish Ali
A controversial remark by BJP MP Ramesh Bidhuri in the Lok Sabha directed at BSP lawmaker Danish Ali during a Chandrayaan-3 discussion, along with the passage of the women's reservation bill in both houses of Parliament, sparks political debate and gestures of regret.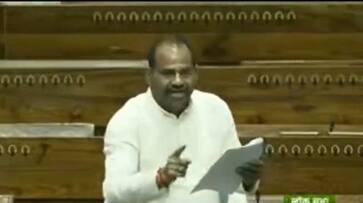 BJP Member of Parliament Ramesh Bidhuri has stoked a major controversy for derogatory remarks against Bahujan Samaj Party (BSP) lawmaker Danish Ali during a discussion in the Lok Sabha regarding the success of Chandrayaan-3. Bidhuri referred to Ali as a "terrorist" and used offensive language during the proceedings, saying, "Yeh ugrawaaadi (militant), Yeh aatankwaadi (terrorist) hai, ugrawaadi hai, Yeh aantankwaadi hai." He also made an inflammatory comment, "Baahar phenko iss mulle ko (Throw this 'mullah' out)."
Danish Ali represents the Amroha constituency in Uttar Pradesh in the Lok Sabha. Despite the hate speech, the BJP has not taken any action against Bidhuri. However, Defence Minister and Deputy Leader of the Lok Sabha, Rajnath Singh, expressed regret over Bidhuri's remarks. Singh stated that he had not heard the comments but urged the Chair to remove them from the proceedings if they had offended opposition members. His gesture was acknowledged by members with applause.
Congress leader Kodikunnal Suresh, who was presiding over the session, later confirmed that he had instructed officials to expunge Bidhuri's comments from the records.
However, Opposition parties and leader continue to voice their opinions on the brazen manner in which the hate speech was made in Parliament.
In related news, Chandrayaan-3 successfully landed on the lunar south pole on August 23, marking a significant achievement for India.
The Lok Sabha recently passed the women's reservation bill with overwhelming support, with 454 members in favour and two opposing it. The bill proposes a 15-year period for the reservation and includes a one-third quota for women within the seats reserved for SC/STs.
On Thursday, the Rajya Sabha also passed the women's reservation bill, following its clearance in the Lok Sabha. Once ratified by the President of India, the bill will become an Act and be incorporated into the Constitution as a new article – 334A. The voting on the bill in the Rajya Sabha took place after an 11-hour debate, with members from various political parties supporting it, although some opposition members labelled it as an election gimmick. Both the Rajya Sabha and Lok Sabha were adjourned sine die on Thursday.
Last Updated Sep 22, 2023, 12:41 PM IST