'Hit EC with shoes': TMC leader arrested for abuse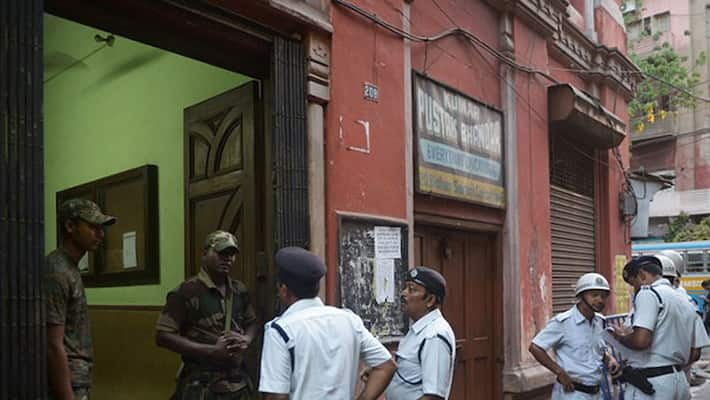 Kolkata Police today termed the voting in seven constituencies here as "peaceful" despite a few stray incidents, including the arrest of a Trinamool Congress leader and heckling of Union Minister Babul Supriyo at a polling booth, during the third phase of West Bengal Assembly elections.
    
"No such major incident was reported from the seven constituencies where polls were held today. We have taken necessary measures whenever we got complaints today," Special Additional CP (Headquarters) Supratim Sarkar told reporters after the elections were over this evening.
    
Around 63 people including three women were arrested mainly because of violating section 144 of the CrPC.
    
While 52 including three women were arrested from Beleghata, nine were held from Phoolbagan, one from Entally and another person from Jorabagan as "preventive measures", a senior officer of Kolkata Police said.
    
Three "notorious" persons were arrested for heckling two journalists of two news channels, he said adding one person was injured after a brief confrontation with the CPF at a booth on Aravinda Sarani when he was found roaming there without a voter identity card.
    
Talking about the arrest of TMC leader Anwar Khan for allegedly abusing the Election Commission, the senior IPS officer said "We have started a suo motu case against him and he has been charged under sections 506 and 188 of IPC based on video clippings sent by the Commission. We have found that his was a cognisable offence and have arrested him."
    
Khan, a resident of the Cossipore area, was caught on camera allegedly speaking to partymen over his mobile phone and asking them to "hit the EC on its face with shoes".
    
Following this, Chief Electoral Officer Sunil Gupta called up Kolkata Police Commissioner Soumen Mitra to arrest Khan, who was already under police "surveillance" owing to his "influence" in the Cossipore-Belgachia constituency where polling was held today. 

A team of police went to Cossipore and led a search operation at several places including his house, but failed to arrest him, forcing Kolkata Police to announce him as "absconding".

Later, acting on a tip-off, the police finally nabbed Khan from Dumdum area, close to his residence.

On the Babul Supriyo incident, a senior police official said "nobody was detained or arrested" in connection with the matter as the Union Minister has not lodged any complaint.
    
"Senior police officers who were there intervened and the matter was resolved. But, because it involves a central minister we did not want to take any chance and a huge force was sent immediately to the spot. Nobody was arrested because we have not received any complaint from the minister," he said.

Babul was allegedly heckled by Trinamool Congress activists when he, along with his parents, went to cast vote at a polling station here.

A huge crowd gathered when Babul arrived at Arya Kanya Mahavidyalaya in the Sovabazar area to cast his vote.

The Union Minister faced opposition from alleged TMC activists who screamed "Go back, Go back" slogans "for attracting crowd" there following which, there was a spat
between them.

Meanwhile, a senior officer was caught on the CCTV footage allegedly slapping the manager of a renowned confectionery shop for keeping the outlet open as it was within the restricted 100-metres vicinity of a polling booth.
Last Updated Mar 31, 2018, 6:45 PM IST