Donald Trump in India: US President greeted with hugs by PM Modi; Ahmedabad all set for Namaste Trump
Prime Minister Narendra Modi gave a warm hug to US President Donald Trump after he landed at Ahmedabad airport. Donald and Melania Trump will visit Delhi and Gujarat on February 24-25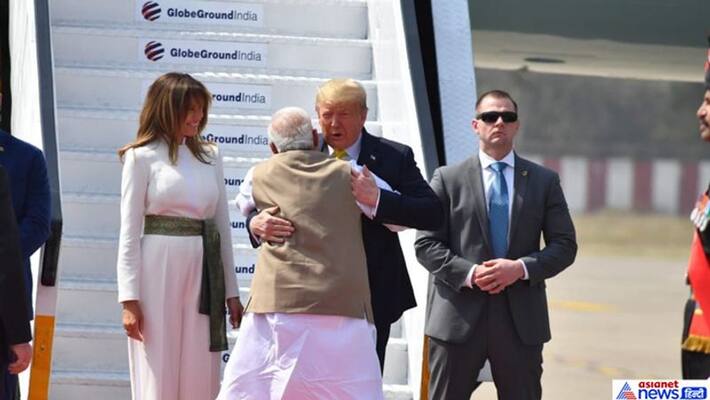 Ahmedabad: US President Donald Trump and his wife Melania arrived in Ahmedabad on February 24.  Trump was welcomed by Prime Minister Narendra Modi, who greeted him with a warm hug.
PM Modi welcomes President Trump to India with a hug
The US President's arrival put Ahmedabad in a completely festive atmosphere. Gujarati dancers performed to music.
Gujarat CM Rupani said, "On behalf of 65 million Gujaratis, it's an honour to welcome the President of the USA, Donald Trump, on his maiden visit to Gujarat,"
This was just one of the series of tweets shared by Rupani.
Earlier, Modi extended a warm welcome to the President on Twitter.
Modi was responding to Trump's tweet in Hindi that he was looking forward to the visit.
As reported by a popular website, here is Trump's itinerary.
Donald and Melania Trump will visit Delhi and Gujarat on February 24-25 - marking his first presidential visit to India. The trip - which is his first foreign visit since his impeachment acquittal, will include the 'Namaste Trump' event at Ahmedabad's Motera Stadium before he leaves for Agra and then New Delhi. After being received by PM Modi at Ahmedabad airport, en-route to the stadium, a roadshow has been organised in which thousands are expected to greet the leaders.
Namaste Trump:
After the 'Namaste Trump' event, the US President will visit Gandhiji's Sabarmati Ashram after which he will fly to Agra - where he will be received by Uttar Pradesh chief minister Yogi Adityanath.
The first couple will visit the Taj Mahal and then head to New Delhi. The next day, on February 25, President Trump and his delegation will hold dialogue with the Indian leadership and both leaders will pay respects to Mahatma Gandhi at Raj Ghat.    
Last Updated Feb 24, 2020, 12:46 PM IST