Did Kerala CM's office order letting off actor Vinayakan? Police officers are demoralised: Congress
Actor Vinayakan was arrested and granted bail after creating a ruckus at Ernakulam North Police Station on Tuesday (Oct 24) evening. Congress MLA Uma Thomas criticised the action of granting him bail and questioned the role of the Chief Minister's office.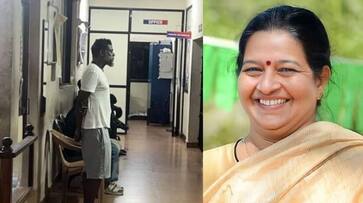 Kochi: Congress MLA Uma Thomas on Tuesday (Oct 24) criticised the government for granting bail to actor Vinayakan who created a ruckus at the Ernakulam North police station. In a Facebook post, Thomas said that Vinayakan, who was intoxicated, created a ruckus at the police station. She asked whether it was  "a privilege of being a comrade" to be released on bail by the station after being booked with weak charges despite behaving so badly at the station and obstructing the duty of the officers.
The Congress MLA also said that she is interested to know whether Vinayakan was released following the instructions received from the Cliff House. She also said that a section of police officers who work with dignity is also demoralized.
The incident happened yesterday evening. Vinayakan called the police to the flat near Kaloor JLN Stadium, where he lives, due to a family dispute. The police arrived and realised that the reason for the family quarrel was the purchase of a flat. After listening to both sides, the police prepared to return. After hearing this, Vinayakan shouted at the police, accused them of only believing what women said, and sent back the officers from his flat.
 
Vinayakan, who reached the police station at 7.30 pm, was arrested and taken to the Ernakulam General Hospital for medical examination. The actor responded to the media and told them that he came to the police station to lodge a complaint and that he was not aware of the arrest or the medical examination.
Meanwhile, he was released on bail last night. A case was registered against him under the charges of behaving without self-control in public places and shouting unnecessarily at government officials.
 
Last Updated Oct 25, 2023, 11:10 AM IST