Delhi pollution: No odd-even rule in national capital as air quality improves
There will be no odd-even traffic restriction scheme in Delhi at this time, Environment Minister Gopal Rai said Friday afternoon, shortly after the Supreme Court left the decision on its implementation to the ruling Aam Aadmi Party.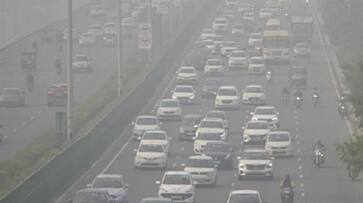 Delhi environment minister Gopal Rai on Friday said that the implementation of the odd-even vehicle rationing system has been put on hold for now. Addressing the media, Delhi Environment Minister Gopal Rai said, "...an improvement is seen in the pollution level. The AQI which was 450+ has now reached around 300. The decision to implement odd-even from November 13 to 20 has been postponed. The situation would be analysed again after Diwali..."
The odd-even scheme - which restricts (only privately-owned) car traffic based on registration numbers - was to have been enforced for this year from the day after Diwali (November 13).
The Supreme Court on Friday said that crop residue burning in Punjab and some other states adjacent to Delhi have to be stopped and solution has to found to reduce the pollution level in the national capital region (NCR).
Also Read | 'God heard prayers, not govt': Supreme Court talks tough on Delhi air pollution after rain
A bench led by Justice Sanjay Kishan Kaul noted during a hearing on a case pertaining to the crippling air pollution in the Delhi-NCR that although there were several committees and studies on the subject, nothing was being done locally.
According to officials on Thursday, the Delhi Traffic Police issued nearly 1,300 challans to drivers of vehicles without PUC certificates in a single day amidst high pollution levels in the nation's capital. Delhi's Graded Response Action strategy (GRAP), Stage IV of the Center's pollution management strategy, went into action on Sunday after the city's air quality fell to the "Severe Plus" level.
ED seizes properties worth Rs 24.95 crores linked to Hero MotoCorp Chairman in money laundering case
Last Updated Nov 10, 2023, 3:21 PM IST