Delhi election affects Karnataka ministerial portfolio allocation
Just like the way the Cabinet expansion of the Karnataka government took time and occurred at the behest of the BJP high command, the allocation of the portfolios may also take time. CM BS Yediyurappa had earlier announced that portfolios would be assigned on Saturday. However, with Delhi polls today and its results on February 11, the new ministers will have to wait.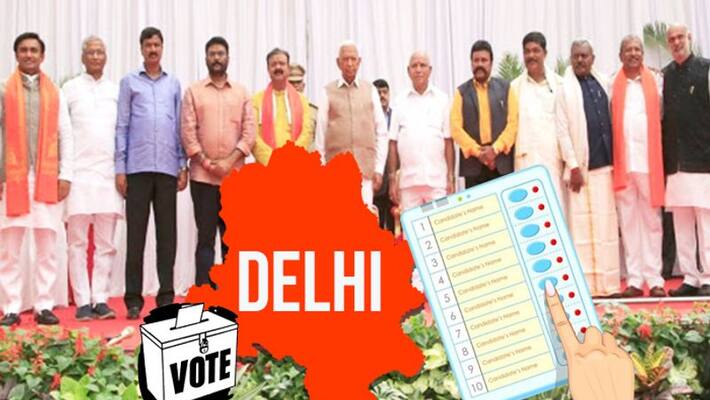 The newly appointed ministers in Karnataka chief minister BS Yediyurappa's Cabinet will have to wait a few more days to obtain their portfolios as Delhi polls and their results will take place.
As today is polling day in Delhi and that the allocation of portfolios to newly inducted ministers will need the nod of the party high command, a little more patience may be required from the newly appointed ministers.
It is not clear whether the party high command which instructs its state leaders and the chief ministers on key issues, may decide on the allocation of the portfolios before the results are announced.
However, newly inducted minister BC Patil, Shrimant Patil and others hope that the issues regarding distribution of portfolio will be sorted out today.
Speaking to Asianet Newsable, Minister BC Patil said, "I saw chief minister BS Yediyurappa on TV in the morning making statements about distributing portfolios to newly appointed ministers on Saturday. I do not aspire for anything specific."
Shrimant Patil Kagwad MLA and newly inducted minister under Maratha quota from North Karnataka has camped in Bengaluru and has been making appearances at BS Yediyurappa's residence. He said he is looking to get a portfolio related to agriculture or cooperatives as it is related to rural development.
"I am from an agriculture background and I am hoping I get a chance to serve in this capacity. Today was supposed to be the distribution of portfolios. However, since there is Delhi elections, there will be a meeting in this regard tomorrow, and I am told distribution will take place. There is a lot of work pending. If it happens, it will be good. Let's see," said minister Shrimant Patil.
Usually, there will be an official communication from CM on any such development. Even during induction into the Cabinet, all the 10 MLAs who joined the BJP and won in the by-election were called by the chief minister a day in advance and were asked to be present during the swearing in ceremony. However, with allocation of portfolios no such communication has been made so far.
"I have not received any such official communication from the CM office with regard to allocation of portfolios. As said earlier, if anything that is related to infrastructure development is given, I will be happy as I feel that it will be game changer for development." said minister K Sudhakar.
BJP spokesperson Ashwathnarayana said, all the leaders in high command in Delhi are busy with elections to the national capital and hence allocation of portfolios may be delayed.
"All the decisions are taken by the high command and we go by that discipline. Maybe before the results the newly inducted ministers could get their respective portfolio," said Ashwathnarayana. 
Last Updated Feb 8, 2020, 1:55 PM IST