Delhi's air quality dips to 'severe' category again, Anand Vihar AQI touches 999
The air quality has been severe in Delhi and neighbouring areas such as Noida, Ghaziabad, Gururgram, Faridabad etc., for the past few days. Weather agency aqicn.org measured the air quality index in Delhi's Anand Vihar at 999, while other parts of Delhi remained in "severe" condition.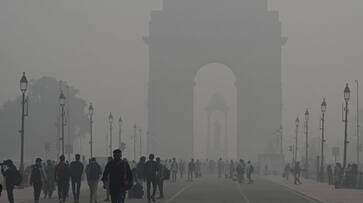 The overall air quality in Delhi slipped back to the 'severe' category on Wednesday, only a day after showing a marginal improvement when it was in the 'very poor' category. Central Pollution Control Board (CPCB) statistics shows that at 7 am, the city's overall air quality index (AQI) was 421. With a few exceptions, almost every station registered an AQI in the "severe" category, including Lodi Road, JLN Stadium, Siri Fort, Aurobindo Marg, and Dilshad Garden.
At six in the morning, an AQI of more than 400 was reported by a number of air monitoring stations, including those in Anand Vihar, Dwarka, Shadipur, Mandir Marg, ITO, R K Puram, Punjabi Bagh, North Campus, Mathura Road, Rohini, Patparganj, Okhla, India Gate, and Mundka.
Even before Diwali, yesterday at 10 p.m., the Air Quality Index (AQI) in Anand Vihar, Delhi, reached a staggering 999, placing it in the "hazardous" category.
Also Read | Supreme Court's firecracker regulations extend to nationwide, not limited to Delhi; check details
In light of the deteriorating air quality in the nation's capital, the Supreme Court on Tuesday ordered the governments of Punjab, Delhi, Uttar Pradesh, and Rajasthan to cease burning their beards. It firmly asked Punjab to stop farm fires and asked the advocate appearing for the Centre that the states must be helped to "shift to an alternative crop (to paddy)" to avoid farm fires. 
Large-scale water spraying with dust suppression powder was done in highly polluted districts of Delhi to reduce pollution. The city government of Delhi has dispatched 517 teams of surveillance, totaling over 1,100 personnel, to enforce the prohibition on building and destruction. According to Delhi Mayor Shelly Oberoi, each of the 12 zones has received Rs 20 lakh from the civic body to execute pollution-control measures.
Delhi's choking air quality is health 'murder': Supreme Court's stern warning
Considering that the pollution is likely to go up post Diwali, the Delhi government on Monday decided to impose the odd-even rule for cars from November 13 to November 20. The odd-even rule of Delhi government is a traffic curb under which private vehicles with registration numbers ending with an odd digit will be allowed on roads on odd dates and those with an even digit on even dates.
Last Updated Nov 8, 2023, 8:46 AM IST