Days after anti-superstition bill came into force in Karnataka, Dalit woman tied to pole as part of Sidi ritual
Just days after the anti-superstition bill was passed in Karnataka, a video has gone viral on social media where a Dalit woman can be seen tied to a wooden pole as a part of Sidi ritual. And this event took place in the presence of BJP leader MP Renukacharya.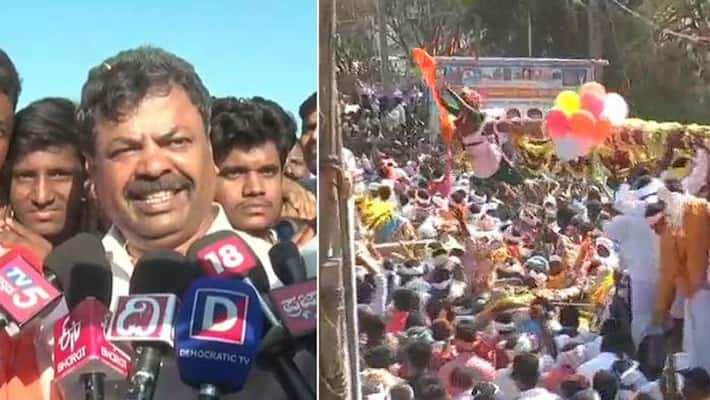 Davanagere: In a viral video, a Dalit woman can be seen tied to a wooden pole as part of Sidi ritual at Kenchikoppa of Davanagere district, Karnataka. This comes days after the Karnataka Prevention and Eradication of Inhuman Evil Practices and Black Magic Act came into force.
It is also noted that  BJP legislator MP Renukacharya participated in the ritual and posted photos and videos of the festival on his social media accounts. He also said to Asianet Newsable that this is an age-old ritual and he does not find any reason to stop this. " This is an age old tradition and I respect that. This ritual has been followed for several years. People do this out of devotion. They fast out of belief and I feel there is no trouble in conducting this ritual," the BJP leader said.
Reacting to the incident, Davanagere SP Hanumantharayappa said to Asianet Newsable, "This incident happened as part of a tradition. It wasn't forceful or violent. It was a peaceful event. Show me the Anti-Superstition Bill. Has it been passed?"
Dear SP, here are the details of the anti-superstition bill:
This bill was passed by both houses of the state legislature in 2017 when Siddaramaiah-led Congress government was in office. Earlier this month, Governor Vajubhai Rudabhai Vala gave his assent to the bill.
Sidi ritual:
According to reports, Sidi is the penalty Dalits agreed to pay to Udusalamma, when one of their forefathers was caught stealing paddy. Some say this is a 50-year-old ritual.
During this ritual, people from the Dalit community sit facing the temple, their mouths covered with thin metal needles for a ritual called Baayige Beega. In some other places, people of this community are tied to a wooden pole. It should be also noted that in some places, Dalits are found fanning the embers of burning coal and tree bark.
In different parts of Karnataka, this ritual is conducted in various ways.
Last Updated Jan 28, 2020, 8:28 PM IST