Day after Parliament clears Nari Shakti Vandan Adhiniyam, PM Modi bows before women who garlanded him (WATCH)
Prime Minister Narendra Modi commemorated the passage of the Women's Reservation Bill, expressing gratitude to the women who played a pivotal role. The celebration at the BJP Headquarters featured dancing and festivities, symbolizing a significant milestone for women's empowerment in India.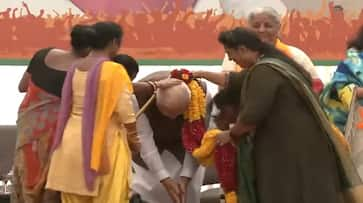 Prime Minister Narendra Modi on Friday humbly acknowledged the appreciation of the women who lauded him for the passage of the Women's Reservation Bill. Modi paid his respects to a group of beneficiaries who adorned him with garlands and blessings. Images from the scene captured women joyfully dancing and celebrating the momentous achievement of passing the historic Women's Reservation Bill, which had been ratified by the Parliament just a day prior.
PM Modi received a warm reception from female party workers who greeted him with bouquets and a shower of flowers. A considerable number of women, including beneficiaries of various government programs, gathered at the party headquarters to welcome him. Prominent leaders like BJP President JP Nadda and women Union ministers like Nirmala Sitharaman and Smriti Irani, alongside other party leaders, also graced the occasion with their presence.
Speaking at the "Nari Shakti Vandan-Abhinandan Karyakram" at the BJP Headquarters, Prime Minister Narendra Modi hailed the unanimous approval of the Women's Reservation Bill, officially known as the "Nari Shakti Vandan Adhiniyam," as a historic moment and extended his congratulations to fellow citizens. He expressed, "Today is a special moment for the nation and a special day for BJP workers. Women's confidence is soaring as mothers, sisters, and daughters across the country celebrate today."
PM Modi emphasized that the Nari Shakti Vandan Act transcends being just another law; it symbolizes India's renewed commitment to democracy. He stated that this significant step aligns with the collective efforts during the Amrit Kaal to propel India toward prosperity. He affirmed his dedication to ushering in a new era of women-led development aimed at improving the living standards and overall quality of life for women.
In a robust response to the opposition, Prime Minister Modi asserted, "The BJP tirelessly pursued this law for women's active participation in democracy over three decades. It was a solemn commitment we made, and we have now fulfilled it. Despite numerous long-standing obstacles along the way, including decades-old challenges, our unwavering dedication and transparent efforts have yielded results. It's a remarkable achievement that this law garnered such broad support in the House."
Highlighting various initiatives undertaken by his government to empower women, PM Modi said, "Our government has consistently introduced schemes and launched programs to enhance the lives of our sisters, granting them respect, convenience, security, and prosperity. To ensure pregnant women receive nutritious food, we initiated the Matru Vandana Yojana, depositing funds directly into women's bank accounts."
He continued, "In order to support our daughters' education, we have increased the interest rate in the Sukanya Samriddhi Yojana. We provided Ujjwala gas connections to alleviate the hardship of cooking. Additionally, to reduce the burden of fetching water, we launched a scheme to supply piped water to every household."
In conclusion, PM Modi remarked, "The inauguration of a new and modern Parliament building, accompanied by increased representation of half the population within it, will pave the way for fresh arrangements. I have faith that the women power of our nation will also establish novel and constructive parliamentary traditions."
Last Updated Sep 22, 2023, 1:33 PM IST