Khaki trousers, Cream jacket & more: New uniform for staff with 'Indian' touch ahead of Special Session
The special session of the Parliament, scheduled next week, will be held in the new Parliament building and the staff will be seen in new uniforms in both Houses. Reportedly, the new uniform will have an 'Indian' touch to it.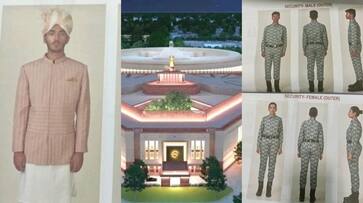 Parliament staff will don new uniforms as they move to the new Parliament building next week for the special session. The 'Indian' element of the uniform will be added through the addition of 'Nehru jackets' and khaki-colored trousers, among other modifications. While the session begins on September 18, the new Parliament building will be officially opened on Ganesh Chaturthi on September 19 with a brief 'pooja'.
The National Institute of Fashion Technology (NIFT) designed the outfit. The bureaucrats' bandhgala suit will be replaced with a magenta or deep pink Nehru jacket. Additionally, they will wear deep pink shirts with lotus flower designs on them. The staff members will wear khaki trousers.
The dress of the marshals in both houses has also been changed. They will wear Manipuri turbans. The attire of the security personnel at the Parliament building will also be changed. Instead of safari suits, they will be given camouflage dresses, similar to the military.
The uniforms have been handed over to all the 271 staff members of both Houses, including the chamber attendants and even those who have been deployed for the verbatim reporting services. However, the security officers from the Parliament Security Service will be given army camouflage uniforms instead of the previous blue safari suits.
The special session of Parliament will begin on September 18 in the old building and move to the new building on September 19, the day of Ganesh Chaturthi. On May 28 of this year, Prime Minister Narendra Modi officially opened the new Parliament building.
The Lok Sabha and Rajya Sabha secretariats told PTI that there would be five sittings throughout the session, and members will be given separate notices of the provisional calendar. The "special session" of Parliament, from September 18 to 22, was announced on August 31 by Parliamentary Affairs Minister Pralhad Joshi, who kept the agenda for it under wraps, triggering speculation.
 
Last Updated Sep 13, 2023, 9:46 AM IST