COVID-19 conundrum: Business bane for boatmen at Srinagar Dal Lake
Amid the coronavirus crisis, a leisurely cruise in the Dal Lake seems to be no longer on one's idea of the perfect evening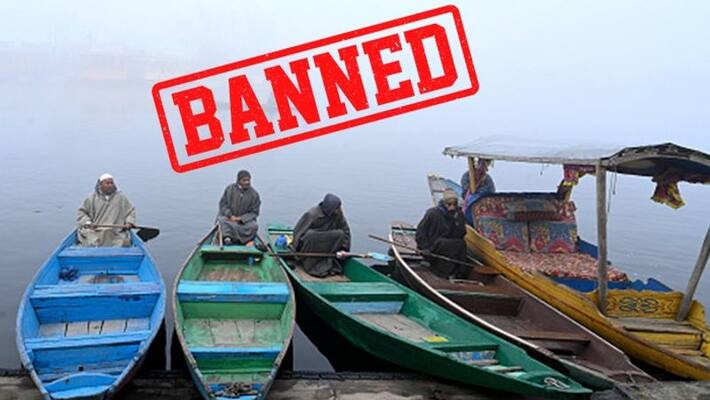 New Delhi: The dreaded coronavirus (COVID-19) pandemic and subsequent lockdowns have taken a heavy toll on global economy and businesses of the shikara-walas at the picture-perfect Dal Lake of Srinagar and tourism in the valley too could not remain unaffected.
Amid the coronavirus crisis, a leisurely cruise in the Dal Lake seems to be no longer on one's idea of the perfect evening. Behind the rows of desolate ornate pinewood colourful houseboats anchored on the banks of the lake, the boatmen stare vacantly as the sun goes down every evening and another day of endless wait draws to a close. They know that the next day doesn't hold out much hope.
"A few years ago, our income could have made anyone envious. But, COVID-19 and subsequent lockdown has affected our business. It's now become very hard to earn our livelihood," 75-year-old Ghulam Ahmad Kallu, president, All J&K Shikara Workers' Union told Asianet Newsable.
He now ages a year everyday now, sitting on his shikara, waiting in vain for customers. His is not an isolated case. Almost all the boatmen at all the 22 ghats of Dal Lake have similar stories of despair to share.
According to Kallu, sitting in his shikara moored at the ghat no.1, "Earlier we earned at least Rs 2,000-5,000 daily. But, due to this coronavirus, our earnings have reduced to zero."
About 4,880 family members are dependent on the shikara trade.
"The government is giving us an ex-gratia of Rs 1,000 as promised to senior citizens by Union finance minister Nirmala Sitharaman on March 27 as COVID relief. But, it's too meager an amount to survive," Kallu added.
Hundreds of the colourful hand-carved houseboats, known as shikaras, can be seen lying deserted, mostly anchored still on the desolate lake. Hotels are empty and there are hardly any tourists.
Nazir Ahmad Dar, another boatman shared his misery. "We have been forced to look for other means of livelihood. Business boomed when the situation was different earlier. Couples hired the boats to go into the lake and steal a few private moments. Now, it seems they don't need the seclusion of the lake. The administration also uses our services when there's flood. We are the ones who stand guard. The payment for this duty is hard to come by," he said.
Like Dar, younger shikara-walas are vending small household items or selling fruit on carts at various spots near the lake area where they would court tourists. Some have turned vegetable vendors. Abdul Rashid (60) who was making a living by selling flowers to tourists has now turned to growing vegetables to feed his family.
Latif Ahmad Dar, 50-year-old boatman, took to selling boiled eggs and cucumber salad on a pavement along the lake as the impact of the prolonged lockdown merged into their "economic devastation wrought by the COVID-induced shutdown".
Wali Mohammad Batt, president, All J&K Taxi Shikara Owners' Association told Asianet Newsable, "The COVID-19 lockdown has taken away the last vestiges of our existence as traditional shikara-walas. The romance of the Dal is gone. In the good old days, there was never a shortage of tourists lining up for their turn to get on those colourful boats for a long cherished ride across the Dal and Nigeen lakes. Nobody had any idea that the COVID lockdown would paralyse our business for months."
Last Updated Aug 11, 2020, 5:02 PM IST