Coronavirus: Rajasthan to get its first plasma bank as COVID-19 caseload crosses 33,000
According to the Union health ministry, Rajasthan has reported 33,220 COVID-19 cases including 8,811 active cases, 23,815 recoveries and 594 deaths so far.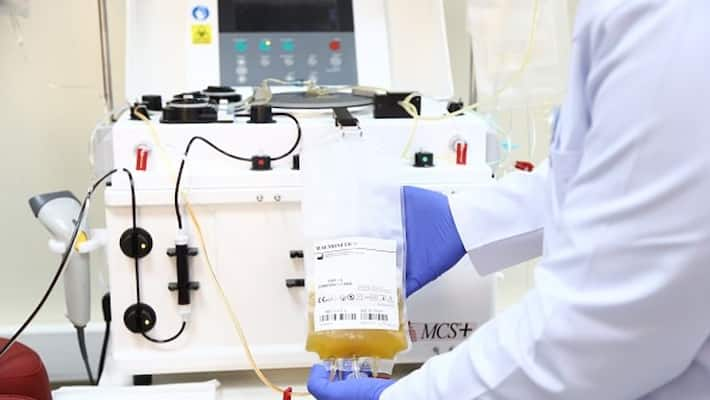 Jaipur: The Rajasthan government is going to set up the state's first plasma bank in Jaipur, state health minister Raghu Sharma said on Friday.
He said the bank will be set up at Sawai Man Singh Hospital in the city.
The minister also appealed to all the people, who have recovered from the virus, to come forward to donate plasma.
"The Rajasthan government is setting up the state's first plasma bank at Sawai Man Singh Hospital in Jaipur. I appeal to all those who have recovered from COVID-19 to donate plasma and help in saving lives," Sharma said.
BJP's Rajya Sabha MP Kirodi Lal Meena is among the 958 people who tested positive for the novel coronavirus in Rajasthan where eight more COVID-19 deaths were reported on Friday, officials said.
The total number of coronavirus infection cases reported in the state so far has reached 34,178 of which 9,029 patients are under treatment and 23,536 have recovered.
The death toll in the state has climbed to 602.
Meanwhile, minister Raghu Sharma on Friday (July 24) said Congress MLAs are ready to be tested for coronavirus infection if the pandemic is coming in the way of holding an assembly session in the state, which is facing a big political crisis.
"If the Governor says they cannot hold (assembly) session due to coronavirus, then we are ready to do coronavirus tests of MLAs," Sharma told reporters as the Congress government led by chief minister Ashok Gehlot struggles with a rebellion by 19 MLAs including Sachin Pilot. "How did the Rajya Sabha election happen then amid the coronavirus pandemic? There were long lines of leaders (for voting)," Sharma said.
Ashok Gehlot on Friday (July 23) said he has asked for an assembly session from Monday, but Governor Kalraj Mishra was delaying the decision because he was "under pressure from the top" to stall a test of strength.
Also watch: We know India is battling enemies like the dreaded Covid-19 & a conniving China. But there is a bigger enemy, and that one lies within. 
Find out more in #TheNewsableDecipher
Last Updated Jul 25, 2020, 10:15 AM IST