Conquering Heights: Deaf-mute students to fly drones in Kerala, first in country
Deaf and dumb students from Kerala are under training to fly drones which happens to be the first time of its kind in the country. The DGCA has granted permission for the training too.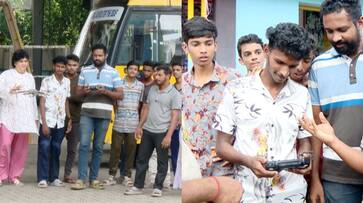 Kochi: For the first time in the country, deaf and dumb students are getting training to fly drones. A total of seven children from St.Clare Higher Secondary School in Manickamangalam in Ernakulam district are about to conquer heights from a world without sound. Jaison Joy, Jitin, Ashin Paul, Nikhil Paulson, Mohammad Rauf, Justin and Anantha Krishnan are seeking drone training. These students in Kerala are attempting to write a new chapter in history.
Amos, a company based in Neeleswaram, began training students at the school to fly drones in August of last year. The training was conducted with the permission of DGCA for differently abled children. The trainers are retired Air Force personnel MJ Augustine Vinod and his wife Varsha. They will receive a certificate for drone flying after finishing their two-month internship. With this, they anticipate being able to obtain greater employment prospects.
Trainer Varsha claims that the students are intelligent and progress swiftly with the drone. Sister Phincita, the school's headmistress, also told Asianet News that teaching everything in sign language will help students acquire it much more rapidly. Students get knowledge about building and maintaining different drones in addition to learning how to fly drones.
Last Updated Oct 19, 2023, 3:20 PM IST