'Congress betrayed Rajasthan, its government must go...' PM Modi in Chittorgarh
Prime Minister Narendra Modi criticizes the Congress-led government in Rajasthan, accusing them of corruption and failing to address the state's issues. He promises action against corruption and vows to improve public schemes if BJP comes to power.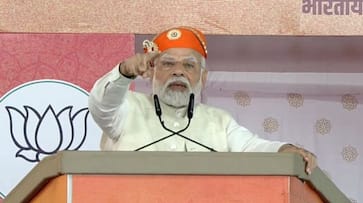 Prime Minister Narendra Modi on Monday lashed out at the Ashok Gehlot-led Congress government in Rajasthan, stating that the grand old party had left no stone unturned to loot the state.
Addressing a gathering in Chittorgarh after dedicated to the nation and laying the foundation stone for various development projects worth about Rs 7,000 crore in the poll-bound state, PM Modi said: "Congress successfully formed a government by deceiving the people of Rajasthan. However, they failed to run the government. Ashok Gehlot had been saving his CM chair, whereas half of the Congress leaders were actively trying to unseat him."
Raking up the law and order situation in the state, he said: "I say this with a heavy heart that when we talk about the crime rate, the first state that comes at the top is Rajasthan. I want to ask the people of Rajasthan why did you all vote for Congress?" 
Slamming the Congress vote bank politics, PM Modi recalled the Kanhaiya Lal murder case. 
"It is very important to remove the Congress government which cannot protect life and property. Had you even imagined what happened in Udaipur? In Rajasthan, which has followed the tradition of not attacking even the enemy by deceit, people come to that land on the pretext of getting clothes stitched and cutting the throats of tailors without any fear or dread." he said.
Touching upon the paper-leak scam, Prime Minister Modi assured the youth of the state that the BJP will get to the bottom of the "betrayal that has been done" to them.
The paper leak mafia here will be held accountable at all costs, he said, adding that such paper leak mafia, which has played with the future of the youth, will not be spared.
The Prime Minister also promised strict action against those indulging in corruption if voted to power in Rajasthan. Offering personal guarantees, PM Modi said: "I assure the people of Rajasthan that after the formation of BJP government, we will not stop any scheme of public interest but will try to make it better and better. This is Modi's guarantee."
He further said, "Action will definitely be taken against those who have committed corruption here and looted the money of the poor. This is also Modi's guarantee. No matter how much these people abuse Modi, strict action against corruption will continue."
Last Updated Oct 2, 2023, 1:13 PM IST