CJI inaugurates 'Mitti Cafe' managed by specially-abled in Supreme Court; heartwarming videos go viral
The article highlights the inauguration of the 'Mitti Cafe' in the Supreme Court of India, entirely run by specially-abled staff, under the patronage of Chief Justice DY Chandrachud, emphasizing inclusivity and providing employment opportunities for individuals with disabilities.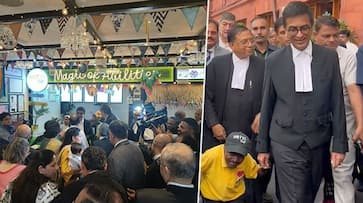 In a momentous occasion, Chief Justice of India DY Chandrachud, accompanied by fellow judges, inaugurated the 'Mitti Cafe' within the premises of the Supreme Court of India on Friday. Notably, this unique establishment is entirely operated by a staff composed of specially-abled individuals, showcasing inclusivity and empowerment.
The managerial roles at the cafe are filled by individuals who are visually-impaired, have cerebral palsy, and are paraplegic, exemplifying the commitment to providing equal opportunities. To mark the inauguration, a small cultural ceremony was organized, featuring performances by disabled individuals, including a rendition of the national anthem in sign language.
During the inaugural ceremony, Chief Justice DY Chandrachud extended an invitation to everyone to visit the cafe and lend their support to this commendable initiative. The cafe is operated by a non-profit organization dedicated to working with people with special needs, offering them meaningful employment opportunities.
Mitti Cafe's reach extends beyond the Supreme Court, with 35 cafes already operational across India, including locations such as Bangalore airport and offices of various multinational corporations. The NGO behind this initiative commenced its work in 2017 and has successfully generated employment for specially-abled individuals.
According to information on their website, since its inception, Mitti Cafe has served over 10 million meals and has expanded its services to include catering and gifting solutions. Notably, the cafe emphasizes its commitment to providing nutritious meals to underprivileged communities, showcasing a holistic approach to social impact.
Last Updated Nov 10, 2023, 12:50 PM IST