Chandrayaan-3 mission update: ISRO aims to revive Vikram lander today
The Chandrayaan-3 mission hinges on a unique event: the reawakening of Vikram and Pragyan when lunar temperatures rise above -10 degrees Celsius, activating their communication systems. ISRO's teams are eagerly waiting to input commands for reactivation when sufficient sunlight energizes the instruments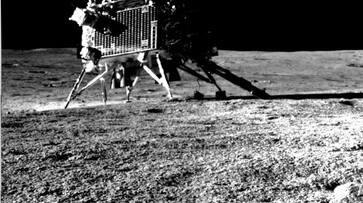 Following an eventful lunar mission spanning a month, the Indian Space Research Organization (ISRO) is preparing for the next phase of the Chandrayaan-3 mission. The Vikram Lander, which successfully touched down on the Moon on August 23 along with its rover companion, Pragyan, is gearing up for Phase 2 after being in sleep mode.
Currently, the mission is in a tense waiting period as ISRO scientists eagerly anticipate a significant event: the reawakening of Vikram and Pragyan. This pivotal moment is expected to occur when the lunar temperature rises above minus 10 degrees Celsius, triggering the critical "wake-up circuit" for communication.
See what ISRO Chairman S Somanath told Asianet News Network about this crucial day

In response to discussions about the Moon mission in the Lok Sabha, Union Minister Jitendra Singh expressed that all possible efforts are being made to rouse Vikram and Pragyan from their slumber.
In the best-case scenario, once the commands are sent to awaken the lander and rover, the rover will recommence its lunar surface exploration, while the equipment on the lander will resume collecting data.
On Thursday, when the sunlight at the landing site becomes strong enough to power up the instruments, teams from ISRO's Telemetry, Tracking, and Command Network (ISTRAC) will begin the procedure of inputting commands to reactivate the instruments. If the machinery responds and recharges successfully, the mission will be granted an extended duration, enabling scientists to gather more samples.
Jitendra Singh remarked, "As we sleep on Earth tonight, Vikram and Pragyan may awaken on the Moon."
Vikram Lander executed a successful soft landing near the Moon's south pole on August 23, achieving one of Chandrayaan-3 mission's primary objectives.
Regarding the prospect of the Vikram Lander reawakening, Singh explained that everyone involved in the mission is eagerly awaiting the lunar temperature to rise.
"As the temperature climbs above minus 10 degrees, a wake-up signal will be sent, and Vikram and Pragyan will come back to life," he stated.
He also noted the historic significance of this event, emphasizing that it's a first-of-its-kind occurrence worldwide. He suggested that alongside celebrating the passage of the women's reservation bill, the nation may also have the opportunity to celebrate the awakening of Vikram and Pragyan.
ISRO Chairman EXCLUSIVE: 'Are we getting the best talent in India? The answer is NO'
EXCLUSIVE! When NASA wanted to keep an equipment designed and developed by ISRO
ISRO Chairman EXCLUSIVE: 'It will be HISTORIC if Vikram and Pragyan wake up on September 22'
Last Updated Sep 22, 2023, 9:18 AM IST