Cash-for-Query Scandal: 'Degree wali desh beche...' BJP MP Nishikant Dubey hits back at Mahua Moitra
Nishikant Dubey refocused the conversation on broader issues such as Parliament's decorum, national security, and alleged impropriety. TMC MP Mahua Moitra had previously accused the BJP MP of holding fake degrees.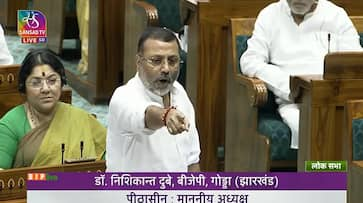 In a strong response to Trinamool Congress MP Mahua Moitra's remarks about his degree, BJP MP Nishikant Dubey on Wednesday shifted the focus to more critical issues. He stated that the central questions now revolve around Parliament's decorum, national security, and the conduct of MPs, including inquiries into potential impropriety, corruption, and criminal activities. 
He called on Moitra to address concerns about accessing NIC emails in Dubai, inquiries made in exchange for financial gain, and the financial coverage of overseas trips. Additionally, he questioned whether she obtained the necessary permissions for her travels. Dubey emphasized that the issue is not about Adani, degrees, or theft but about the perceived deception of the nation and allegations of corruption.
This response from Dubey followed Moitra's previous allegations regarding his educational qualifications. Dubey had previously denied these allegations.
Moitra herself has faced allegations of receiving a cash payment of Rs 2 crore from businessman Darshan Hiranandani in exchange for posing questions in parliament. Dubey has requested an investigation into these allegations by writing to Lok Sabha Speaker Om Birla. Moitra has strongly refuted these accusations.
Dubey has further called for a Lokpal investigation into Moitra's actions, supported by a letter from Supreme Court lawyer Jai Anant Dehadrai containing detailed evidence. The complaint has been forwarded to the Lok Sabha ethics panel.
Darshan Hiranandani has claimed in an affidavit that Moitra frequently sought various favours from him and alleged that she provided him with her parliament login credentials. He also claimed that Moitra attacked the Adani Group in pursuit of fame.
Moitra has responded by stating that an MP's login credentials are used by various individuals, including assistants and interns, and she challenged the government to publicize login data for all MPs. The issue has generated considerable debate, with the BJP questioning the Trinamool's response to Moitra's actions, while the Trinamool party leadership has suggested that they will take appropriate action following the Lok Sabha panel's investigation.
Last Updated Oct 25, 2023, 9:48 AM IST