Canadian woman disciple files complaint; alleges 'horrible acts of violence' in Nithyananda's ashram
A Canadian citizen, who was ordained the vows of sanyasa at the ashram of Nithyananda in Bidadi has filed a complaint against him and volunteers to appear as a witness in Indian courts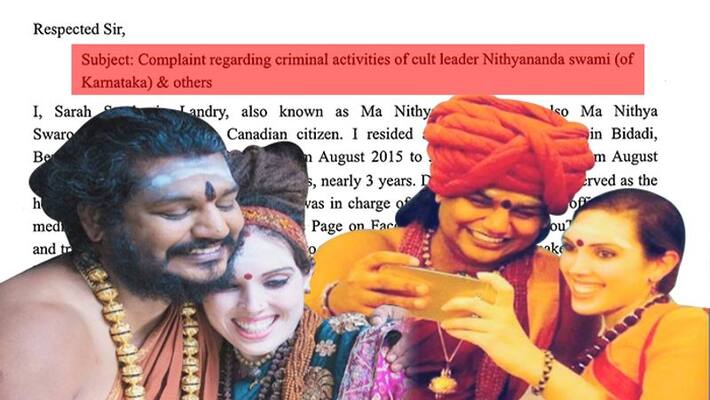 Bengaluru: A Canadian woman, Sarah Landry aka Ma Nithya Sudevi and Ma Nithya Swaroopapriyananda, who served as the head of social media team of Swami Nithyananda, has lodged a complaint against the tainted godman and his alleged criminal activities. 
The complaint, which was filed on November 12, goes on to allege that there were "horrible acts of violence against children, physical and sexual abuses, instructing and instigating girls/women and boys/men to file false criminal cases of rape and sexual assault, well planned social media campaigns of lies, slander and defamation, cheating, financial fraud and such other misdeeds of Nithyananda, which I have come to know of or realised recently."  
Furthermore, the complaint letter adds that the lady was inspired and influenced by Hinduism and attracted by the preachings of Nithyananda. In 2015, the letter states that she moved to the ashram in Bidadi, and in the year 2018, took up sanyas by accepting the orange/kavi robes and lived the life of a sanyasini/brahmacharini. 
She adds that Nithyananda has created an atmosphere of fear and intimidates anyone who steps out of line with severe physical, emotional and financial punishment and also uses false criminal cases/litigations to harass. 
The lady alleges that she is being portrayed as anti-Hindu by Nithyananda and his followers in spite of maintaining that she has great regards for Hinduism, its culture and its beautiful teachings. 
She also adds that she has shifted to Canada and would appear in the court as witness if sought to. 
She also urges the authorities to take action against Nithyananda before he destroys many more lives and the great fame of the glorious Hindu way of life. 
 
Last Updated Nov 25, 2019, 6:23 PM IST