'We will always defend...' Canadian PM Justin Trudeau on concerns over pro-Khalistan activities
Canadian Prime Minister Justin Trudeau has commented on the increasing pro-Khalistan activities in Canada, assuring the nation's commitment to freedom of expression while condemning violence and foreign interference.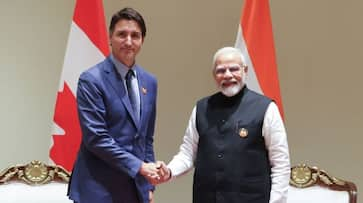 Canadian Prime Minister Justin Trudeau on Sunday addressed the growing concerns regarding pro-Khalistan activities in Canada during a recent statement. He emphasized Canada's commitment to safeguarding freedom of expression, conscience, and peaceful protest, while also denouncing violence and hatred. 
Trudeau mentioned his ongoing discussions with Prime Minister Modi regarding Khalistani extremism and foreign interference, highlighting the significance of upholding the rule of law.
Referring to Khalistani extremism, Trudeau said, "Over the years, with PM Modi, we have had many conversations on both of those issues... Canada will always defend freedom of expression, freedom of conscience, and freedom of peaceful protest and it is extremely important to us.. at the same time we are always there to prevent violence and to push back against hatred".
"I think on the issue of the community, it is important to remember that the actions of the few do not represent the entire community or Canada. The flip side of it, we also highlighted the importance of respecting the rule of law and we did talk about foreign interference", Trudeau added.
Trudeau's remarks followed a recent incident in Surrey, British Columbia, where the Shri Mata Bhameshwari Durga temple was vandalized with anti-India and pro-Khalistan graffiti. This event occurred shortly before the pro-Khalistan group Sikhs for Justice (SFJ) announced plans to 'lock down' India's Consulate in Vancouver.
The temple's desecration was reportedly a response to Canadian authorities revoking permission to hold a referendum at a public school due to concerns about promotional materials featuring an image of an AK-47 rifle. The referendum had been scheduled for September 10 at Tamanawis Secondary School in Surrey. In previous incidents, the Lakshmi Narayan Mandir in Surrey was similarly vandalized with anti-India and pro-Khalistan posters, which were later removed. 
Additionally, Trudeau expressed his government's deep concern about the rising pro-Khalistani activities in Canada, especially in light of a controversial parade float depicting the assassination of late Prime Minister Indira Gandhi, which was featured in a parade by pro-Khalistani activists in Brampton. Canada remains committed to upholding its diverse values, including freedom of expression, while also taking a strong stance against violence and extremism in all forms.
Last Updated Sep 10, 2023, 6:13 PM IST