Cabinet expansion: Javdekar elevated, 17 new faces inducted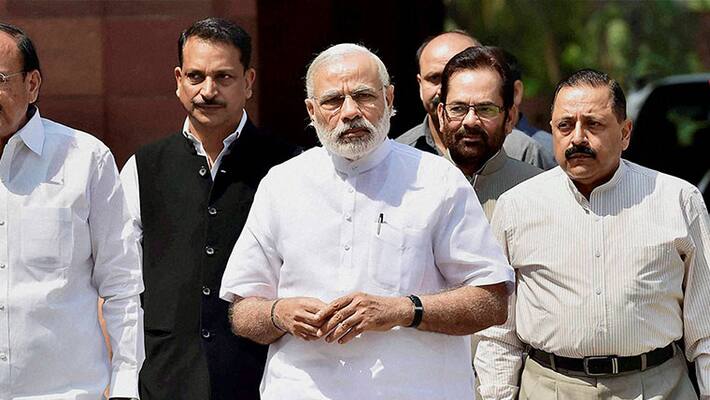 Prime Minister Narendra Modi today carried out a major expansion of his Council of Ministers, inducting 17 new faces, including several Dalit and OBC leaders from poll-bound states like UP.

Prakash Javadekar, who held the independent charge of environment, was the sole minister promoted to the cabinet rank while all new inductees took the oath as ministers of state.

Today's exercise underlines BJP's attempts at wooing Dalits and OBCs, whose votes would be crucial to its future in key states like UP and Gujarat.

All, barring Vijay Goel and Faggan Kulaste, are new faces while a few have been ministers in BJP-ruled state governments.

Ajay Tamta, Arjun Ram Meghwal, Krishna Raj, Ramdas Athawale, Ramesh C Jigaginagi were among the Dalit MPs sworn in as ministers by President Pranab Mukherjee at a ceremony in Rashtrapati Bhawan.

Others who were inducted in the Modi government include Anupriya Patel, S S Ahluwalia, P P Chadudhary, C R Chaudhary, M J Akbar, J Bhabhor, Purshotam Rupala Mansukhbhai Mandaviya, S R Bhamre, Mahendra Nath Padey, A M Dave, Rajen Gohain.

While Patel and Athawale are BJP allies, all others are from BJP.

Among the 19 inductees, three MPs each from Uttar Pradesh, Gujarat and Madhya Pradesh took oath while four MPs from Rajasthan were sworn in.

At least three ministers of state are likely to be dropped. 
Last Updated Mar 31, 2018, 6:51 PM IST