CAA Protest: CCTV footage exposes 'anti-social elements'; BJP blames Congress for breaking peace in Mangaluru
Footage of the anti-CAA protests that took place on December 19 in Mangaluru, Karnataka, reveals that the incident was a pre-planned act with protesters intending to break peace in the city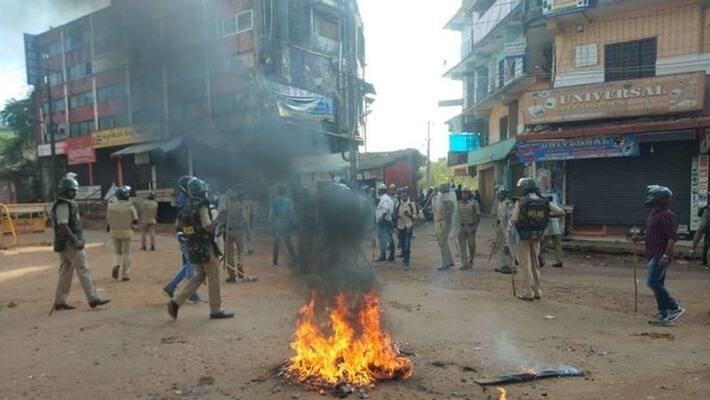 Bengaluru: Days after a massive protest broke out in Karnataka's Mangaluru where two people lost their lives as police resorted to firing, footage of the CCTV cameras have exposed the presence of anti-social elements in the anti-CAA agitation.
In the CCTV footage, the protesters are seen wearing masks on their face and entering the premises, vandalising CCTV cameras and diverting its frame to ensure the actual incident doesn't get captured. 
In another footage, an auto with loads of gunny bags is seen entering the lane where the protesters are pelting stones at the police. Later, a protester takes the bags fulls of stones, all set and ready to pelt and vandalise public property.
According to reports, the protesters tried to break into an ammunition store to grab pistols and ammo to use them in the protest. With police officials' decision to fire and disperse the mob, further tragedy and pre-planned violence was avoided.
"
Speaking to Asianet Newsable, Sreenath Seshadhri, a BJP spokesperson, said that the protest was politically motivated to get the Centre to revoke the decision on the Citizenship Amendment Act.
"Since the time the incident took place we (BJP) had been telling tthat anti-social elements are the reason behind the protest. Amid all this, it is Congress that has to be blamed for failing to bring peace between the poeple," he added.
"Anyway, we have urged the police to take strict against the people who broke peace during the protest and action will be taken against them," the BJP spokesperson further added.
Tom Vadakkan, senior BJP leader echoed the same sentiment. "We always suspected this (Mangaluru violence) to be a pre-planned incident. There lies the vested interests of the protesters and what are they trying to do by manipulating CCTVs. These anti-social elements did this for public exposure. What is there to be afraid of? The protesters' malafide intentions have now come to light. This is more like a manifestation of vested interests." 
On December 19, two persons were killed while 20 police personnel were injured in violence during a protest here against the Citizenship Amendment Act. Mangaluru Police Commissioner PS Harsh said 20 police personnel were injured.
Last Updated Dec 24, 2019, 12:13 PM IST