Brutal lynching at Singhu border: Man hacked and tied to police barricade; Nihangs under scanner
The body of the victim, identified as Lakhbir Singh from Tarn Taran in Punjab, was found hanging on an overturned police barricade with his wrist chopped off.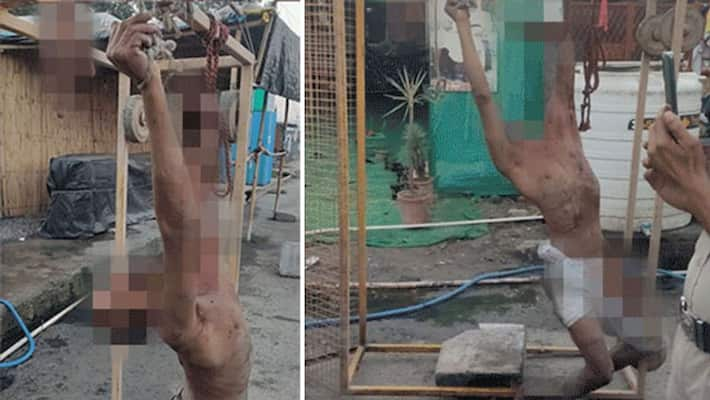 A case of gruesome lynching has been reported from near the farmers' protest site at the Singhu border in Haryana.
According to Sonipat DSP Hansraj, the body was found tied to an overturned police barricade around 5 am this morning,
The body of the victim, identified as Lakhbir Singh from Tarn Taran, was found hanging with his wrist chopped off.
An FIR has been lodged against unidentified persons at the Kundli police station in Sonipat. 
Shocking videos have been doing the rounds where members of the warrior Sikh group known as Nihangs are standing around a profusely bleeding victim, but none of them come forward to help him.
Another chilling video shows Lakhbir lying on the ground as some men try to capture his dying moments on phone.
After the police arrive at the spot, Lakhbir was taken to the civil hospital where he was declared dead on arrival.
Several media reports claimed that the Nihangs could be behind the brutal murder. The FIR notes that the Nihangs present on site did not assist the police in bringing down the body.
Sonipat Superintendent of Police Jashandeep Singh Randhawa said police personnel were going through several videos that have been circulating where some Nihangs have claimed that the victim disrespected the Guru Granth Sahib. 
The video also shows some of the men there claim that the victim had been paid Rs 30,000 for desecrating the holy book.
The investigators suspect that the victim may have been beaten up and killed by Nihang Sikhs. 
This is not the first time that Nihangs have been under the scanner for violent acts.
In April 2020, a group of Nihangs had attacked a police officer who had asked them to show curfew passes amid the Coronavirus-triggered lockdown. They chopped the officer's hand following which he had to undergo a series of surgeries. 
Also Read: 
Explained: The controversy over BSF's extended jurisdiction
From OTT content to Bitcoin to Partition: Key takeaways from RSS Chief Bhagwat's Dussehra speech
Last Updated Oct 15, 2021, 1:33 PM IST