Bihar road rage: Manorama Devi faces arrest after suspension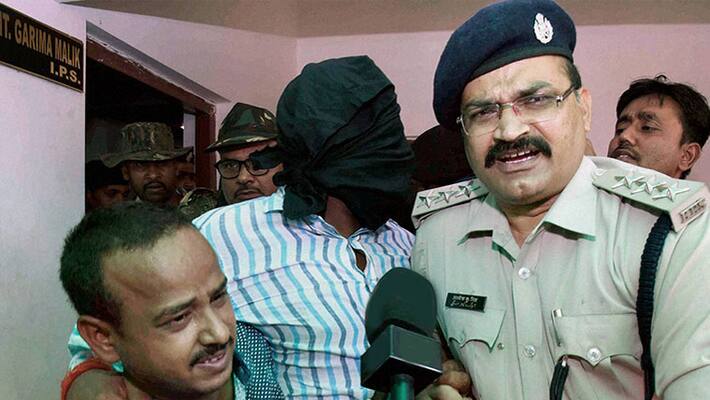 JD(U) MLC Manorama Devi faced an arrest warrant today for violating prohibition laws and allegedly harbouring her fugitive son who has been held in the road rage murder case in Bihar even as she remained on the run and her house sealed by the police.
A day after being suspended from the JD(U), Devi found herself in more trouble when Police and Excise department personnel spotted a child domestic servant at her Gaya residence. The MLC, whose jailed husband Bindi Yadav is an alleged history-sheeter, is on the run after an arrest order was issued against her by a Gaya court after police sought the warrant for seizure of liquor bottles and allegedly hiding from the police information about the whereabouts of her son till he was arrested in the wee hours yesterday.
A case has already been registered against Devi's husband Bindi Yadav and son Rocky Yadav in connection with the seizure of liquor bottles. Devi's name was included in the FIR last night. Officials of the Excise department, accompanied by the police, swooped on her posh Anugrah Puri Colony home in Gaya this morning and sealed it, Senior Superintendent of Police Garima Mallik said.
The sealing of the house followed a case registered against the MLC with the Rampur police station last night in connection with the recovery of six bottles of Indian Made Foreign Liquor (IMFL) from her house during a search on Monday for Rocky Yadav who allegedly shot dead a 20-year-old youth for overtaking his car in Gaya on Saturday night. During a search operation at her house, officials found a domestic hand employed and took him under their care.
The child has identified himself as Dev Nandan Kumar and gave his age as 14-years-old, Gaya District Labour Superintendent Rakesh Ranjan told PTI. The boy said he was a resident of Chatra in neighbouring Jharkhand and was employed at the MLC's home only eight days back, Ranjan said. After recording his statement, the Labour department officials took him to Child Welfare Commission, he said.
"We would then give a prosecution notice in the court of Chief Judicial Magistrate for action against MLC Manorama Devi and her husband Bindi Yadav under Section 86 of the Child Labour Act," Ranjan said. A Gaya court today granted two-day police custody of Rocky Yadav in connection with the road rage murder. Additional District and Sessions Judge S K Jha accepted police's prayer seeking Rocky's custody and granted permission. Police did not get Rocky Yadav yesterday for its custodial interrogation. The Gaya court yesterday sent the accused to 14 days judicial custody.
Last Updated Mar 31, 2018, 6:59 PM IST