Bengaluru: To improve sexual performance, spiny tail lizards smuggled from Rajasthan; six arrested
Owing to the demand of some of Bengaluru's real estate developers and techies, who think that monitor lizard's meat and blood thinking will enhance their sexual performance, 10 spiny tail lizards were smuggled from Rajasthan. Koramangala Police caught six accused and seized the live lizards.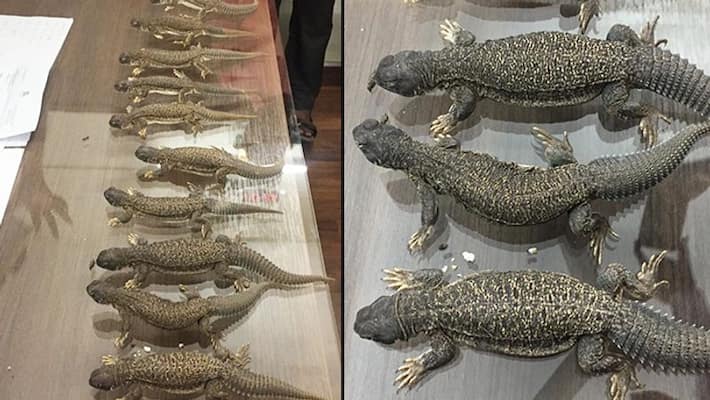 Bengaluru: Assumptions about addressing sexual performance weakness and notions of improving it among few techies and real estate developers has led to monitor lizards and spiny tail lizards falling prey to an unusual demand from Bengaluru.
Koramangala Police caught six accused; Karuna, Shakti, Arivarta Reddy, Ramesh, Gopi and Malairaj. Five of them are from Tamil Nadu and one is a Karnataka resident. According to police, the accused say that the reptile's meat and blood is sold to cure sexual performance weakness
According to police inspector Shashidhar, based on the information about possible illegal wildlife trade, few policemen posed as buyers and caught the accused when they arrived in a private vehicle. During the arrest, police also found 10 alive lizards in a gunny bag.
Wildlife activist Sharath Babu says, tribal people in bordering Hosur come all the way to the city, as many techies and others approach them on weekends, to supply such reptiles which are protected under the Wildlife Protection Act, because they think it will help them in their sex life.
"The false assumption about monitor lizard's meat and blood boosting libido is responsible for such trade. In this case, the spiny tail lizard that is found only in Rajasthan and can survive without food for months was smuggled. The accused person caught in the past revealed that they sell this reptile saying its blood mixed with rum and its meat consumed can improve sexual performance among men, and hence there's so much demand." said Babu.
Last Updated Dec 12, 2019, 9:52 AM IST