Bengaluru South MP bats for suburban railway project
Karnataka MP Tejaswi Surya stressed on the need for suburban railway project in the city; prominent figures and ministry hail approval of project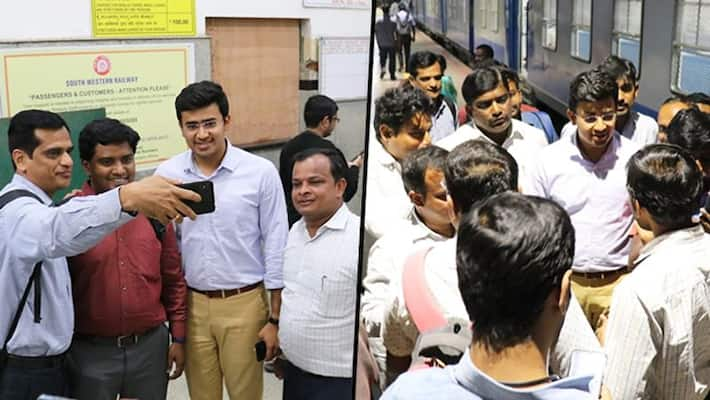 Bengaluru: Traffic congestion in the city is at its worse during peak hours and commuting from place to place proves to be a burden for commuters in the city. As Bengaluru expands its horizon, traffic menace in the city goes up a notch higher. 
In a development that may bring smiles to those weary of Bengaluru traffic, the extended railway department has approved a 148km suburban railway project in the silicon city. 
Karnataka MP Tejaswi Surya met with passengers at Cantonment railway station after the project was approved. After interacting with the passengers, Tejaswi Surya said, "We achieved an important bureaucratic milestone on Monday in addressing the urban mobility crisis of Bengaluru. Our metro in the city is the only one that does not have a suburban railway network. The suburban railway is something that Bengalureans have been asking for the last 33 years and finally Extended Railway Board on Monday cleared the project." 
Surya also said how he had to convince authorities and push hard for this suburban railway project in the city. 
"The project ran into hurdles (mainly with the NITI Aayog) with its proposal earlier this year. In lieu of this, I met with NITI Aayog CEO Amitabh Kant last week and stressed the importance of Suburban Railway for Bengaluru. I informed him that the Revised DPR has met the guidelines laid down by the NITI Aayog and requested him to approve the project soon. It was earlier cleared by the Karnataka chief minister BS Yediyurappa, in August," said Surya.
Surya also added that it was not just his efforts that paid off but ministers and state leaders too batted for the project. 
"I also met with the railway minister last week. As a citizen aggrieved with the traffic of Bengaluru, I brought to his notice the importance of the suburban railway and requested for his early clearance. The efforts of the railway minister Piyush Goyal, minister of state for railways Suresh Angadi and all Members of Parliament from Bengaluru, PC Mohan and minister DV Sadananda Gowda, have borne fruit today."
The extended railway board meeting, comprising officials of NITI Aayog, railway ministry, ministry of planning and statistics and finance ministry, approved the project on Monday and has cleared the decks for suburban railway in Bengaluru. The file would next be placed before the Cabinet for the final approval.
The suburban railway project has an estimated budget of Rs. 16,000 crore and will have four corridors connecting places ranging from Devanahalli to Whitefield, a part of the city that has struggled with rapid growth and poor connectivity.
 
Last Updated Nov 5, 2019, 11:19 AM IST