Bengaluru corporator rejoins Congress; claims he was 'forced' to join BJP over 'cup of coffee' with CM
Two days after Bengaluru corporator's return to the Congress fold from BJP, Sampangirama Nagar corporator Vasanth Kumar said he was just taken for a 'cup of coffee' with Karnataka CM Yediyurappa and was 'forced' to join the BJP. He says he was shocked and did not know how to react then.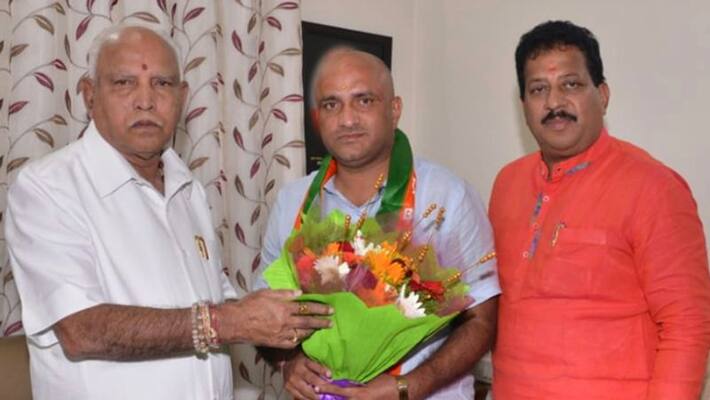 Bengaluru: With Bengaluru's Shivajinagar being a prestigious seat that also witnessed Assembly by-polls on Thursday (December 5), the Congress leaders say, the BJP took Congress corporator from Sampangirama Nagar (Bengaluru) two days before the election into its fold "by force". 
Talking to Asianet Newsable, Vasanth Kumar, BBMP corporator, said, he went to Karnataka chief minister BS Yediyurappa's official residence to join him for a "cup of coffee" and all of a sudden the BJP leaders handed over their party scarf and Yediyurappa's close confidante, Yelahanka MLA SR Vishwanath was also present.
"I did not know what to do as all 'big' people from the BJP were present. Next day on Wednesday (December 4), I spoke to Congress leaders about the development and assured them that I will not defect," explained Vasanth.
Karnataka Congress president Dinesh Gundu Rao dubbed this development as a desperate attempt by the BJP to secure its position in the state
With Jayamahal corporator MK Gunashekhar, Ramaswamypalya corporator Netravathi Krishnegowda and Ulsoor corporator M Saravana defecting from the Congress, BJP's prospects in Shivajinagar looks bright and taking Sampangirama Nagar ward also into its fold, BJP thinks it can rout the Congress.
Sources say, just before the Assembly by-elections, the BJP wanted to rope in more leaders from the Congress into its fold, this was to ensure that the grand old party suffers setback even before the polls.
"Vasanth Kumar was taken by force, his photo along with the CM was being circulated with ulterior motives. Kumar never made any statements about leaving the party," said Rao.
BJP reacts:
The BJP camp criticised Vasanth and the Congress saying he has retracted his statement after persuasion from the Congress leaders. "Kumar is not a kindergarten student to say that he was taken for coffee and made to join the BJP by force," said BJP spokesperson S Prakash.
Last Updated Dec 6, 2019, 5:22 PM IST