BBMP marshal attacked for imposing Rs 1,000 fine against face mask rule violators
Two men assaulted a BBMP marshal at KR Puram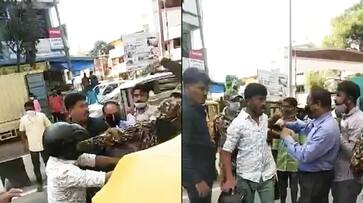 The public who have been critical about both Bruhat Bengaluru Mahanagara Palike (BBMP) and state government in handling the COVID-19 situation have started to air their anger openly. In KR Puram, a BBMP marshal was attacked by two youths. His only fault was he flashed a challan of Rs 1,000 for not wearing a face mask. The accused persons are identified as Arun T and his friend Jagadeesh GP, both residents of Mulabagilu work in Bengaluru as waiters in a bar.
 
The youths were heading to work. On seeing one of them without a mask, the marshal stopped them and tried to snatch the bike keys. Infuriated by the act, the youths punched him.

 
The local health inspector alerted the police and took both the youths into custody. Upon questioning, the youths said they have no money and there is a financial crunch, and the behaviour of forcing them to pay angered them and hence they attacked the official.
 
Earlier, the BBMP would collect Rs 200 as penalty for nor wearing face masks. The fines were recently increased to Rs 1,000.
Last Updated Oct 3, 2020, 3:55 PM IST