Ayodhya verdict: We were arrested when we went to Ram Janmbhoomi: Pejavar Seer
Udupi Pejavar seer from Karnataka hailed Supreme Court's verdict on Ram Janmbhoomi land dispute, said earlier once then UP government feared Udupi Dharmasanstha's decision and had opened the doors of the Ram Mandir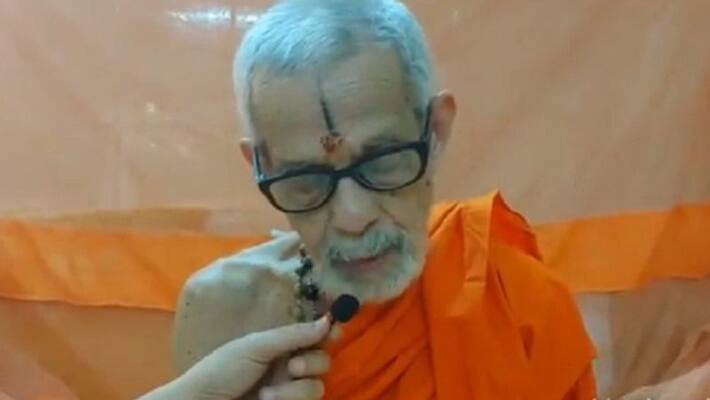 Udupi: Sri Vishwesha Theertha of Sri Pejavar Mutt, Udupi, Karnataka, on Saturday, hailed the historic verdict of the apex court on Ram Temple in Ayodhya and said the verdict has brought about harmony in the society.
The temple town, Udupi, had given wing to the Ram Mandir movement on two occasions. In 1985, Vishva Hindu Parishad had organised 'Dharma Sansad' in Udupi on October 31 and November 1. It was this Dharma Sansad that gave a call referred as 'Tala Khol' to open the Ram Janmbhoomi temple site was made, and eventually the then Union government led by Rajiv Gandhi had opened the site. 'Mandir Vahin Banayenge' slogan too had originated during the Udupi Dharma Sansad in 1985.
The Pejavar seer is one of the trustees of the Ram Janmbhoomi Trust, of which Nritya Gopal Das is president. The trust operates under the Vishwa Hindu Parishad.
Pejavar Seer recalled about his house arrest by the police in Allahabad. He said that he had participated in a symbolic 'kar seva' organised by VHP and other allied organisations. But on December 6, 1992, a group of Hindu activists suddenly started demolishing the dome of the mosques. I wrote a letter to the president later and we were released from house arrest. 
"I pleaded them not to destroy it as we had decided not to cause violence. Police even stopped me from entering that site stating that there may be firing at Hindu activists. However, the next day on December 7, 1992 the evidence of the once existing mandir was seen and so I installed the idol of Lord Ram in Ayodhya,'' he said.
"In 1989, I was present for the foundation laying ceremony of the Ram Mandir.  The foundation stone was laid by a Dalit and it sent out a message that the temple belonged to every caste, creed and section of people. Later during the Prime Minister VP Singh's tenure many meeting took place between Hindu and Muslim leaders but there was no outcome," said Pejavar seer. 
Reminiscing all the old memories related to Ayodhya Ram Mandir, the Pejavar seer said he is now happy that the verdict came in his lifetime. 
Muslims wanted a mosque, and the SC ordered giving a suitable five-acre land to the Sunni Waqf Board. Now, the Hindus should give them the five-acre land. I am happy that the verdict was announced during my lifetime,'' he said.
Last Updated Nov 10, 2019, 12:13 PM IST