Ayodhya Ram Mandir: Video of sun shining bright as construction work continues warms devotees' hearts (WATCH)
A video showing the sun shining bright in the backdrop as construction work in Ayodhya's Ram Mandir continues in full swing has gone viral on social media.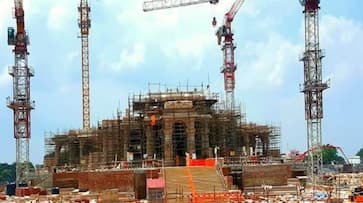 Construction is underway for the magnificent temple dedicated to Lord Ram in Ayodhya, Uttar Pradesh. A day after the Ram Mandir Trust released an image of the temple's front façade under construction, offering a glimpse of the temple's appearance, a video in which the sun is shining bright in the backdrop of the construction work has gone viral.
In the video shared on X (formerly known as Twitter), workers can be seen toiling hard in the blazing sun to complete the construction of the Ayodhya Ram Mandir. "I feel people working there are so blessed," noted one user on X, while most simply added, "Jai Shri Ram" as they await the opening of the magnificent temple.
The ground floor of the Ram Mandir in Ayodhya has seen the installation of the roof, while pillars have been erected on the first floor. These developments provide insights into the temple's future appearance. The temple dedicated to Lord Ram will stretch approximately 380 feet from east to west on the ground floor, with a width of 250 feet from north to south. The temple is designed to have three floors, with an expected height of around 392 feet. Intricate carvings adorn the temple's walls, pillars, and ceiling, as showcased in the released photographs.
In January 2024, the consecration ceremony for Lord Ramlala in the Ram temple is scheduled to take place, as previously announced. This momentous event has been eagerly awaited by devotees and marks a significant milestone in the temple's construction.
During a recent visit to Ayodhya, Uttar Pradesh Chief Minister Yogi Adityanath inspected the construction progress of the Ram Mandir. He also paid a visit to Lord Ramlala during his visit to Ayodhya. Several other officials joined him during this inspection.
Champat Rai, the general secretary of Shri Ram Janmabhoomi Teerth Kshetra, shared new photos of the Ram Mandir on X. These images were captured during CM Yogi Adityanath's visit to Ayodhya, providing a visual update on the temple's construction. Devotees who hold Lord Shri Ram in high regard have long awaited the consecration ceremony, marking a significant moment of spiritual significance.
Last Updated Aug 20, 2023, 9:40 PM IST