Sonowal to swear in as Assam chief minister today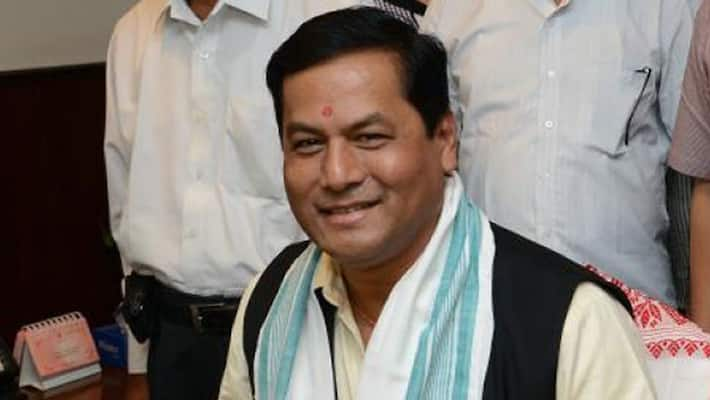 A host of dignitaries, including Prime Minister Narendra Modi and BJP President Amit Shah, are slated to attend.
Sonowal is said to have requested outgoing Chief Minister Tarun Gogoi to take part in his swearing-in ceremony. He visited Gogoi at his official residence in Koinadhara area of the city and invited him to the oath-taking function. Gogoi has accepted Sonowal's invitation and said he would attend the swearing-in ceremony, the CMO said.
On Monday, Sonowal was unanimously elected as BJP Legislature Party leader in Assam, paving the way for his becoming the next chief minister of the state.
Following this, he led a delegation of BJP, AGP and BPF members to Raj Bhavan to stake claim to form the next government in Assam. The Governor afterwards invited the BJP-led alliance to form the next government in the state.
BJP had won 60 of the 126 Assam Assembly seats in the recently held Assembly elections. Its allies Asom Gana Parishad (AGP) and Bodo Peoples Front won 14 and 12 constituencies respectively.
Who is Sonowal?
Sonowal belongs to the Sonowal-Kachari tribe contested the assembly polls from Majuli, the world's largest river island.
Born on October 31, 1962, in Molokgaon in Dibrugarh district to Jibeswar Sonowal and Dineswari Sonowal, he is a bachelor and a devout follower of Assam's renowned Vaishnav saints Sankardeva and Madhavdeva.
An ardent sportsman, the Union Sports Minister is a keen follower of football, cricket and badminton.
Sonowal left the AGP in January 2011 following differences with the party leadership and went on to join the BJP in February 2011 in the presence of then party President Nitin Gadkari and other senior leaders.
He went on to become the BJP state unit President in 2012 and was credited with raising the party's tally to seven from the earlier four and reducing the Congress' margin to three from seven in the 2014 Parliamentary polls.
Last Updated Mar 31, 2018, 6:37 PM IST